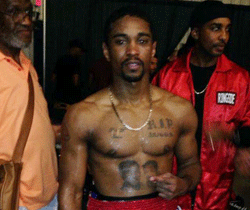 [Updated] Bermudian boxer Nikki Bascome made his professional debut in fine style, winning his first professional bout this weekend in the United States. Bascome took on Southpaw George Quinterro, and won by unanimous decision.
Bascome said, "It feels great knowing that I got over my first fight successfully…but I have to thank God for leading me to the victory."
"It has been tough long road just getting to that one fight…and I must say without him it couldn't have been possible."
"I also have to thank my trainer Mr. Rego and Manager Mrs. Rego for dedicating so much time and money to help make my dream come true, they have both been there for me from the start I have to say they are really some wonderful people and I am blessed to have them in my life."
Bascome continued, "I give myself a B minus overall for the fight, because I know me and I know that I'm capable of doing way better than I did, I am not making any excuses but I just didn't get a good enough warm-up going into the ring."
"I just telling myself I must win this fight because Rego told me every day leading up to the fight that it would be very important to win my first professional fight because it would lead us to bigger and better fights in the future," concluded Bascome.
Update 12.47pm: Shadow Sports Minister Michael Weeks said, "We are pleased to recognize Bermudian boxer Nicki Bascome who in his boxing professional debut, recorded a unanimous points victory against his opponent at the Highlands County Fair Convention Centre in Sebring, Florida. With a bright future ahead of him, we expect many more victories for Mr. Bascome in the future."
Read More About