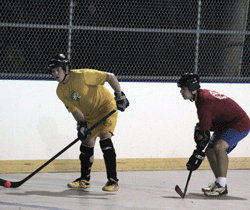 The Colorado Rockies defeated the California Golden Seals 9 – 1, in the opening game of a Bermuda Ball Hockey League Triple Header at the PCC Hockey Rink.
Sebastian Robson led the Colorado Rockies to victory with 4 goals, while Christopher Merritt and Nick Curnow scored two goals each and Scott Shannon added the other. Stephen Davidge scored the lone goal for the California Golden Seals.
The Quebec Nordiques edged the Minnesota North Stars 6 – 5 in the second game of the night. Jf Talbot scored twice for the Quebec Nordiques including the winner, while JM Tremblay, Kyle Chisholm, Bill Calko and Jordan Gunter all added a goal each. Nathan Kowalski scored a hat-trick for the Minnesota North Stars, while Adam Mattatall and Joel Neal added a goal each.
In the final game of the night the Atlanta Flames defeated the Toronto Arenas 6 – 5. Jeffrey Loper led the Atlanta Flames to victory with two goals, while Jacob Amlong, Matthew Benson, Richard Campbell and Chris Coleman all scored a goal each, while Cam Poland and John Duda scored two goals apiece for the Toronto Arenas, while Bill McClure scored the other.
Read More About