The Bermuda Regiment and Royal Navy teams joined forces today [Oct 19] in order to help the island's hurricane clear up progress, with the joint teams visiting hospitals, schools, churches, youth training centres and private homes to help patch up the damage caused by Hurricane Gonzalo.
One team helped clear a dangerous fallen tree from the grounds of Full Armour Christian Academy, Nursery and Pre-school in Warwick.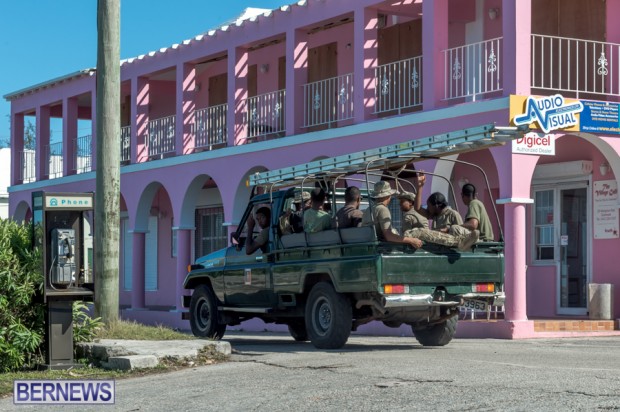 Owner Juanita Campbell said, "I'm so grateful and so pleased. They've done an excellent job – some of the soldiers here are my former students who have come back to help me and I'm so happy to see them."
Soldiers and sailors also helped clear debris from the Railway Trail in Somerset at the Seventh Day Adventist Church.
Church member Kamal Edwards of Sandys said, "I'm so happy they're here. The Regiment has done a great job – I'm proud of them, especially as my son Runekco Edwards is a Sergeant."
Navy Petty Officer engineer Dean "Gabby" Hayes, from Lancashire, England, added, "We're pleased to be here and helping. I've never done anything like this before – it's very rewarding and everyone has been so friendly."
Regiment soldier Pte Melissa Brangman said, "It's been a really long, busy day, but we've had a lot of thanks and appreciation from the public. Everybody is letting us know how grateful they are for our work and it's been great working with the Navy."
Soldiers and sailors also fitted tarpaulins at the Sea Cadet training centre TS Venture, near Dockyard, which lost most of its roof to the storm.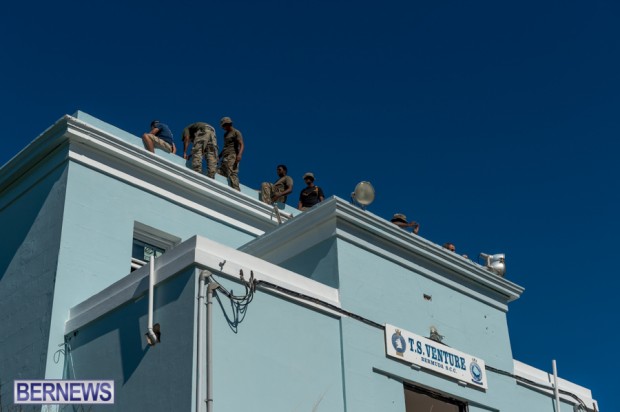 Venture CO Lt Commander Dwayne Trott said, "It's awesome to see these guys at work. Our soldiers are giving something back to the community and teaching young people life skills – it's wonderful."
Regiment CO Lt Col Michael Foster-Brown said, "Many hands make light work – thankfully the hurricane for most was not as a bad as feared, but if it had been, these specialised assets would have been even more valuable, especially the helicopter.
"And – with more of us available – we will bounce back and get back to normal even quicker. Progress already has been impressive."
Sailors deployed from HMS Argyll, which arrived on Saturday, included heavy and light rescue teams trained in rope work and used to working at heights. Around 85 sailors and Royal Marines, including specialist electrical engineers to help restore power, were based at Warwick Camp.
HMS Argyll's captain, Commander Paul Hammond, said he had been impressed by the commitment and professionalism of the Regiment.
"One of the reasons the Navy still puts a ship in the Caribbean is to provide disaster relief in the event of a hurricane. The main role of our team on the ground is extra hands to work with the Regiment to make sure Bermuda is ready for business."
For all our coverage of Hurricane Gonzalo click here, and for our live blog where we are bringing you continuous live coverage of Hurricane Gonzalo click here.
Read More About
Category: All