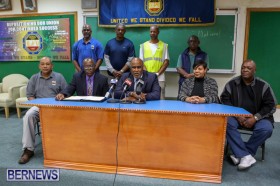 [Updated] Stevedoring Services and the BIU have reached an agreement which will see Stevedoring institute a wage freeze for the upcoming 2016 fiscal year as well as freeze hiring on certain posts.
Warren Jones, the CEO Polaris Holding Company Limited said, "In June of last year, we informed you that the Portworkers' Division of the Bermuda Industrial Union and the Management of Stevedoring Services Limited had signed a new collective bargaining agreement for the period of 2013 – 2015."
"I remarked that it was my hope that Stevedoring Services become the model for what labour relations can be in Bermuda. The successful conclusion of these negotiations in just three meetings demonstrates that we are making positive strides towards that goal.
"The hallmarks of this negotiation, as they were a year ago, were frank communication, honesty and transparency on both sides of the table. You may recall that when we spoke to you last year, we had agreed a retroactive wage increase for fiscal 2014 of 1.7% and a wage freeze for the 2015 fiscal year which was to be reviewed at the conclusion of this fiscal year.
"As you would be aware from the media coverage of our six-month financials, Polaris Holding Company Limited, parent company for Stevedoring Services Limited has not enjoyed a positive financial year. As a result, the proposed wage freeze for this year was agreed.
"Additionally, we agreed a wage freeze for the upcoming 2016 fiscal year, with the caveat that this position be reviewed at the end of the year. We will return to the table prior to the conclusion of the next fiscal year to negotiate wages only and the outcome will be based on the financial performance of the Company.
"We also agreed to reduce our staffing headcount. This is to occur within both management and the unionized ranks. Management has agreed to freeze the hiring on one senior management post and to reduce the management headcount by one.
"With two members of the Portworkers' Division retiring early in the fiscal year, we have also agreed to freeze hiring for those posts and review that position at the end of the fiscal year.
"This will reduce our staffing by four positions and positively impact our bottom line. Additionally, Management has introduced efficiencies around inventory, cross-training and continues to focus on improving service delivery.
"I sincerely thank each member of our staff and the Executive of the Bermuda Industrial Union for agreeing a way forward that allows Stevedoring Services to continue to weather this difficult economic period."
Update 6.57pm: BIU President Chris Furbert said, "This is a good example of how the BIU continues to work with our social partners because we understand that one size does not fit all. The Management of Stevedoring Services Ltd. and the Union continue to work together with the Board of Directors chaired by Cheryl Hayward-Chew that was elected in 2013. The relationship has gotten even stronger since Mr. Warren Jones' appointment in January 2014.
"This set of negotiations took us only three meetings to reach an agreement and that says a lot about the mutual respect that each party has shown towards each other. No doubt there will times that we disagree, but because of the honesty, trust and frank relationship that we are building we should be able to solve our differences fairly quickly.
"Mr. Jones has outlined most of what is in the 3 year agreement but I must add that there is a change in the vacation schedule. One to five years of service will increase from 13 days to 15 days. We look forward to working together with the Management Team of Stevedoring Services Ltd. in the future. "
Read More About