Digicel Bermuda today [Aug 24] announced that they will be offering unlimited use of the top social media apps —  Facebook, WhatsApp, Instagram and Twitter – with their new Go Social Packs for prepaid customers.
"Digicel customers will be able to enjoy this unlimited social media use effectively free as they are included at no extra charge with the improved Freedom Bundles also announced today," the company said.
"The most popular social media services in Bermuda are Facebook, WhatsApp, Instagram and Twitter. Unlimited use on all of these are included in the new Go Social packs, available for one off prices for 7, 14 or 30 days.
"Use on these services, other than VoIP, will neither deplete a customer's data allowance nor credit balance – no matter how much they use.
"Prepaid customers can save even more as Digicel now includes a Go Social pack free with every one of the already "best value in Bermuda" Freedom Bundles of minutes, text and data.
"This is on top of the big savings Freedom Bundles already offer compared to standard Prepaid rates. Freedom Bundles have also seen prices fall with minutes, text, data, free incoming calls and free social now available from only $10.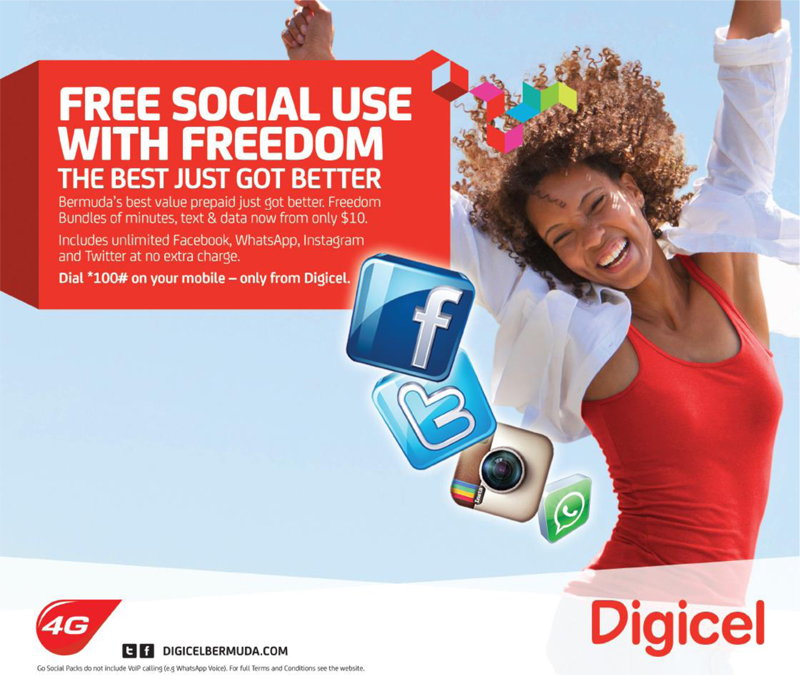 "Customers that prefer daily plans can also benefit from free Go Social on the $3.50 daily plan that already includes unlimited voice and SMS plus a data allowance.
"Every plan available to Digicel Prepaid customers can be accessed by their new *100# code, with no need for customers to remember a specific code for each."
"Customers on the existing Freedom Bundles benefit from automatic renewals so they never miss out on the savings. They will see no change to their service while it continues to renew.
"However, they can take advantage of the better value with Go Social included by deactivating the old and activating a new Freedom Bundle with one call to the Digicel care team on 500-5000."
Digicel Commercial Director Julian Burton stated, "The best just got better. Since we launched the best ever value Prepaid with our Freedom Bundles earlier this year, we have seen a surge in customers who have recognized Digicel as the place to get more for their money. We are delighted to be leading the market once again by offering even more to our valued customers with unlimited social now effectively free."
More information on Go Social packs and the new Freedom Bundles can be found here.
Read More About
Category: All, Business, technology