Mary Ellen Noonan Koenig, a career diplomat in the United States Foreign Service, arrived in late August to assume responsibilities as the U.S. Consul General to Bermuda, and recently took the time to outline the experience that she brings to the island in her new position.
Mrs. Koenig will replace Robert Settje, who said his time in Bermuda has been "a wonderful experience from beginning to end."
"I've been a foreign service officer with the US State Department for 22 years. I'm delighted to be here in Bermuda as a Consul General," Mrs. Koenig told Bernews.
"I've lived around the world with my family serving abroad. Most recently I've come from Moscow, from Russia where I was a cultural attache and oversaw a very large public diplomacy program, lots of cultural exchanges and educational exchanges and English language programs. I love foreign service, and I love the fact that I'm here in Bermuda.
"I'm absolutely delighted to be here; I've always wanted to come here. I have to admit I've always had a fascination with English history, so I've always known of Bermuda and always wanted to visit. When I was assigned here, I was delighted at the opportunity.
"I've never been here before. First, I looked on the map and was very surprised to see where it was located. I mean, I knew it was off the Eastern seaboard of the US, but I didn't realize it was really so by itself and not part of the islands to the south of us. That was a revelation.
"Then I started looking at how far it is from the different places in the US, and it's very close obviously. Flights are 2 hours, 2 1/2 hours. The location didn't totally surprise me but when I realized really how much we're out in the middle of the Atlantic really by ourselves, that was interesting to me.
"Then we started looking at some of the websites and some of the news sources here in Bermuda to get up to speed on what's happening on the island, a little bit of the history. Both my husband and I are really interested in exploring history and cultures."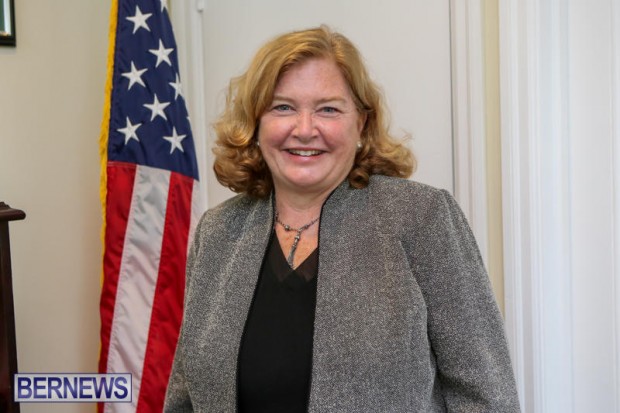 "We are looking forward to reading a lot and visiting everything and just learning about all the traditions and the peoples and the diversity and the economic situation. All of that is really fascinating to us, and that's the delight of being in the foreign service, that we get to do that as part of our work."
When asked what she had been doing on the island since she arrived, Mrs. Koenig said, "Our first weekend we went to the Crystal Caves, which is right down the street from our residence. We've explored a couple of beaches. We got our driver's licenses last week so now we're on wheels.
"We got our car, so we're starting to explore more. Last night, for instance, after dinner we took a drive down to a beach to look at Tobacco Bay and to look at the fish and snorkel a little bit, which is wonderful for us and really a novelty and watched the sun set, which was just gorgeous. We've explored a little bit of the rail trail near our residence.
"We're really looking forward to getting to know every inch of the island in the next three years."
When asked what opportunities she saw in using her position to strengthen the relationship between Bermuda and the United States, Mrs. Koenig said, "That's really important. I know the strength of the relationship already, the historical ties, the family ties, the economic ties.
"That's all good and whatever we can do to nurture those ties, the Consul is here to serve that purpose, as well as to protect the interests of American citizens. That's one of our key missions being here. Beyond that, because I come from a public diplomacy background, I'm very interested in fostering the people to people ties as well.
"I think each individual brings their own passion and their own interest to a job. For myself, I'm very interested in education. I'm a mother of four, so education has been very important to me. I look forward to working with the schools and the Bermuda College and looking where we can support all the efforts going to encourage young people to reach their highest aspirations. That's really important to me.
"Beyond that, the fact that we're on an island, I think, is looking at State Department goals. The environment is obviously critical for everybody globally but in a place like Bermuda, it must be that much more important just because of its location here."
"The fact that Secretary Kerry is very interested in the oceans and is participating in Oceans Environment in October and next year, the US is going to be hosting an Oceans Conference. I think that's an area where the Consul can also try to work with Bermuda and look at partnerships and ways that we can help each other on these important issues.
When asked about her thoughts on the "stop list," Mrs. Koenig said, "Yes. It's a regulatory thing. It's a legislative thing from the US. Each state, each government has the right to say who comes into their territory. I know this is a very difficult issue because we've had such a close relationship with Bermuda and because you're able to get on a plane and go to the US so easily, but the fact is that we have to follow the rules in terms of when there has been any kind of criminal activity in the past.
"It needs to be marked, and there's a process to go in through to get permission to go the US. That's unfortunate for the individual who might've been caught in some youthful indiscretion but at the same time, those are the laws, and we have to respect those.
"If there's any way to encourage youths to think about those before they get into trouble, that would be a good thing to do but beyond that, we simply have to follow the process. I encourage people who have those issues to give plenty of time and to really work with the Consulate to try to go through the process and try to get that permission.
When asked if she had met with local politicians, Mrs. Koenig said, "Just starting. My first meeting was with the Governor, and the second meeting with the Premier. I've started this week meeting with different ministers; a very warm welcome, which I very appreciative of.
"I'm getting lots of information, so I'm learning a lot, asking about economic development, asking about different scenarios here. Learning about the politics and the history. It's been a learning process for me, but I really appreciate the very warm welcome and all the information that's being shared."
When asked about the advice she had received from her predecessor, Mrs. Koenig said, "First, to enjoy it all because it's a wonderful assignment. He was very enthusiastic and loved his time here. He said just take advantage of everything that Bermuda has to offer and we certainly plan to do that.
"We look forward to the close relationships with the people that we'll meet here. I know it's a relatively small place. I'm coming from the largest country in the world to a relatively small place. This is a real delight to me to really feel like I have the opportunity to get to know people and to develop relationships and to try to find partnerships and ways that we can support each other. He was very enthusiastic about his tour."
Read More About