The Caines Brothers and Five Star Barbershop's successful "Back 2 School Extravaganza", Google Street View adding Bermuda to its collection, Karen Trott being pinned as a Girl Guide Commissioner, the historical Carter House dwelling receiving donated A/C units, and Police Field receiving a face lift were some of the positive news stories from the past week.
Other good news stories included Chelsea Ray and Keizhari Knight receiving education awards, Saltus celebrating its excellent IGCSE exam results, Hamilton Parish Council awarding educational scholarships totaling $10,000 and Troy Tucker scoring twice for University of Tampa.
We also posted various community photo galleries, including coverage of the Back 2 School Extravaganza, Coppertone Beach Volleyball Tournament, BIU Labour Day Banquet, Charles Emery Memorial Football Tournament, Sand Sculpture contest at Horseshoe Bay, Soul Food Promotions Back to School Community Day, Ewing Street ribbon cutting, and the Junior Anglers Fishing Tournament prize presentation.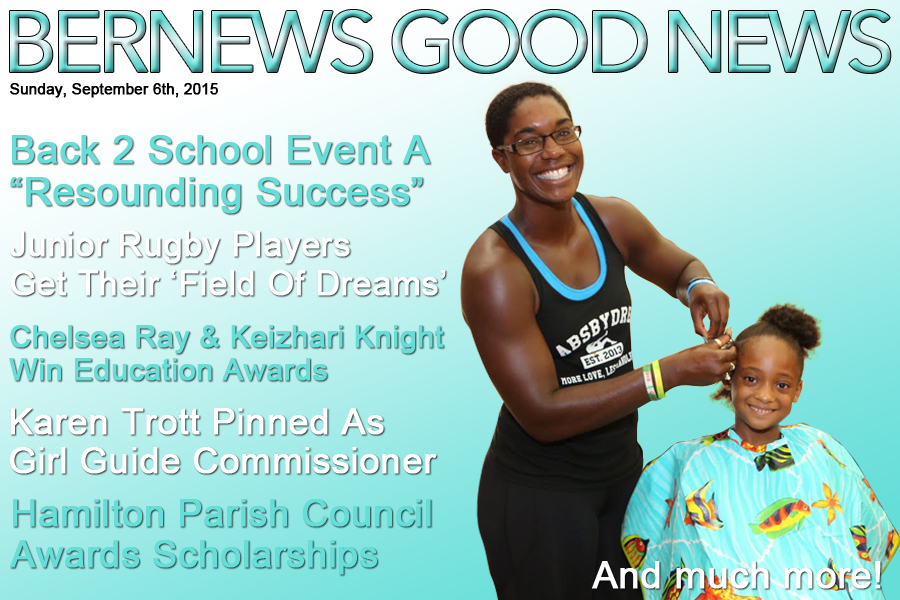 In an effort to highlight some of positive news happening in our community, we supplement our standard morning and evening email newsletters with a special Sunday "Good News" email newsletter edition, which strictly focuses on the positive news from the past week.
You can sign up to have the free newsletter delivered via email here, and/or access the links below. In addition, for those who like positive news, please feel free to visit our sister site ForeverBermuda.com, which seeks to showcase the best of Bermuda as well as provide information and listings for visitor related services.
Links to some of the 'good news' from the past week are below:
Read More About