Fourteen college and high school rugby teams will flock to the island next month for the first-ever Ariel Re Bermuda Rugby 7s Tournament, with the BTA saying that about 200 players and coaches are expected to fly into Bermuda.
The event, supported by title sponsor Ariel Re and the Bermuda Tourism Authority [BTA], will take place at the National Sports Centre [NSC] March 18th and 19th, 2016.
Ivy League colleges, including Yale University, Columbia University and Dartmouth College, are among those sending athletes for the tournament while their schools are on spring break.
Two squads from Dartmouth will extend their stay in Bermuda to have a spring training camp immediately following the tournament. Two teams from Yale will extend their stay for rest and relaxation.
At today's Ariel Re Bermuda Rugby 7s announcement [from left to right] Michael Doyle of Ariel Re, high school rugby player Jahniko Francis, Pat Phillip-Fairn of BTA, high school rugby player Michael Dill and tournament co-organiser Tom Healy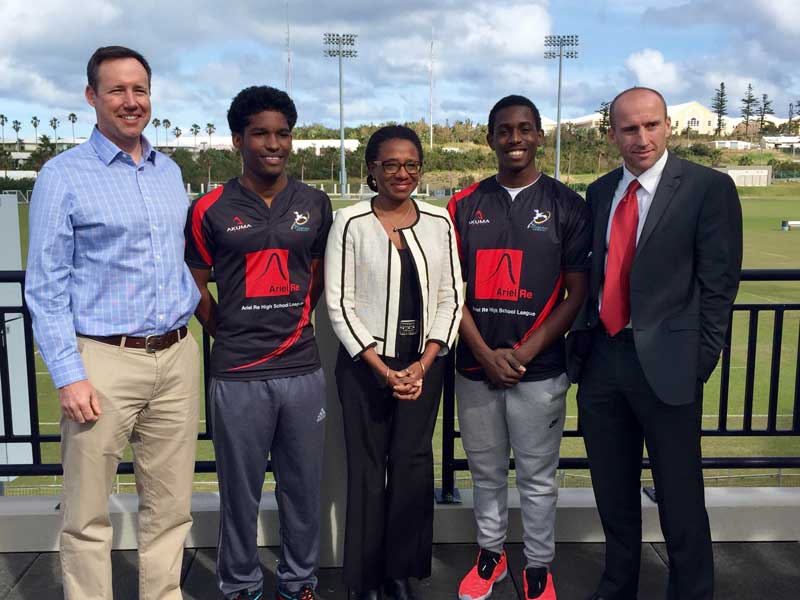 Leaders from Bermuda's national rugby programme are organising the event. They successfully applied for financial support from the BTA through its Tourism Experiences investment process.
"We relish the opportunity to introduce Bermuda to these college and high school students who are the next generation of travellers," said Pat Phillip-Fairn, the BTA's chief product and experiences development officer.
"There was a time when Bermuda was the premier spring break destination of colleges and universities. We're now evolving Bermuda's position in that space, targeting college and high school athletic teams on spring break to present an exciting new opportunity for our tourism industry, especially when we leverage the world class training facilities at the National Sports Centre."
About 200 players and coaches are expected to fly into Bermuda. Some will travel with their friends and family.
The BTA and the NSC entered into a strategic partnership last April whereby visiting teams are allowed to use the facilities at the NSC based upon the scope of the event and its impact on the island. Since the agreement was signed tournaments and training camps for field hockey, lacrosse and now rugby have visited.
The Danish National Swim Team also benefited from the agreement with a pre-Olympics training camp. Meantime, a BTA-supported regional track meet will visit the NSC in April, also part of a pre-Olympics circuit for athletes.
The 2016 summer games in Brazil will bring the debut of Rugby 7s at the Olympic level.
"Rugby 7s is a growing sport internationally and in Bermuda," said Michael Doyle, representing title sponsor Ariel Re.
"We are extremely proud to sponsor the Ariel Re High School Rugby League and excited at how this programme has grown successfully over the years. Furthermore, we look forward to showcasing the collegiate opportunities available to our young players if they continue to work hard in the classroom and on the field."
Two teams of Bermuda high school students and one team of college-aged young people will participate in the tournament next month, competing against the visiting teams.
Admission to the two days of play is free to the public and everyone is invited to witness the high calibre of talent from home and abroad.
"While we are very happy to start this new event with 13 teams, there is an opportunity for this tournament to grow quickly," said Tom Healy, event co-organiser and head coach of Bermuda's national rugby 7s team.
"One of the ways to ensure growth is to generate strong support from the public. We hope to see Bermuda come out to welcome our guests and to cheer for our young people who will be introduced to the world stage of rugby."
Visiting Teams Scheduled to Compete in Bermuda
Dartmouth College [2] – Yale University [2]
Stony Brook University – Kutztown University
Notre Dame – Columbia University
Saint Joseph's University – Boston College
Norwich University – Stanstead College
West Chester High School – Greenwich High School
Read More About