In the sixth — and final — in a series of profiles of the young men competing in this year's Alpha Beautillion, we spotlight Impact Mentoring Academy student Chakote K. Wainwright-Basden.
His profile, courtesy of the Alphas, says: "Chakote K. Wainwright-Basden was born January 1st, 1997 to Kenneth and Reshika Wainwright. Chakote also has a younger brother named Sekai, who is four years younger.
"Chakote attended and graduated from Warwick Pre-school, West End Primary School and Sandy's Secondary Middle School. He is now in his final 3 months of high school at Impact Mentoring Academy.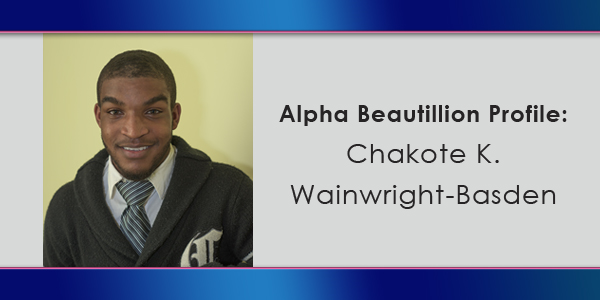 "Chakote has been active in sports from a very young age, playing baseball, basketball, cricket, and football. He enjoys fishing, swimming, being outdoors and spending time with his family.
"His favorite sport is rugby because it is a bit rough and crazy, but full of people who love the sport and a spirit of camaraderie. Chakote said that rugby has taught him a lot of life lessons – "The importance of working as a team and how to make the right choices at the right time."
"Chakote has represented Bermuda on the National Teams from the age of 14, traveling to destinations such as Canada, Las Vegas and Trinidad to name a few. Further, in 2014 he was named "Youth Player of the Year" and "Rookie of the Year".
"This year he walked away with the most tries in a season and most improved player. Chakote continues to work hard in rugby and hopes to attend university on a rugby scholarship. Ultimately, Chakote aspires to the best rugby player in Bermuda and represent the Bermuda National Team.
"Whilst attending university, Chakote will pursue a degree in Physical Education. He ultimately wants to give back to the community by sharing his love for sports by coaching future young athletes.
"When reflecting on his Beautillion experience thus far Chakote shared that it has shown him the importance of networking. It has also strengthened his resolve to become a man of honour, courage and integrity."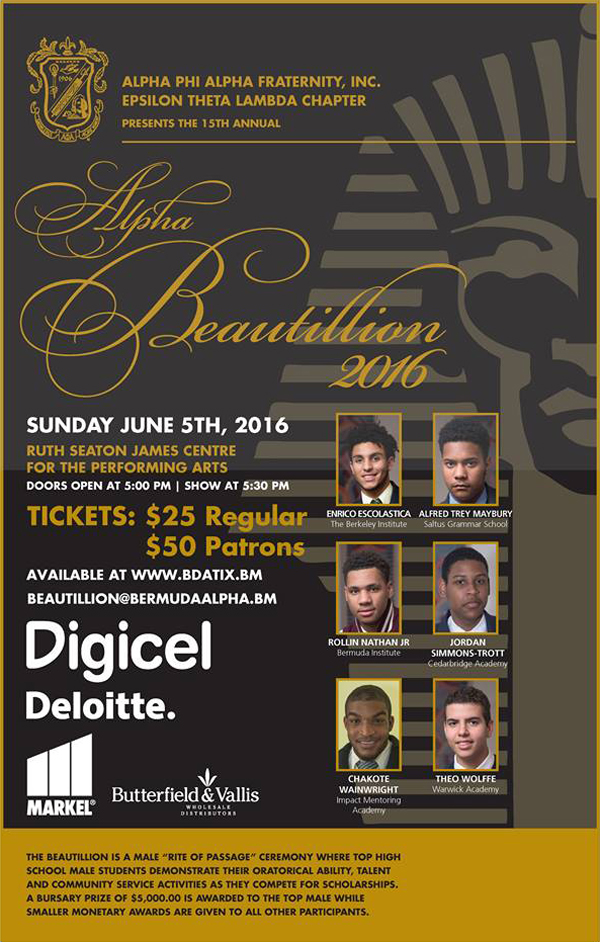 The Alpha Beautillion is a "Rite of Passage" Ceremony where top high school male students demonstrate their oratorical ability, talent, and community service activities as they compete for scholarships, with a bursary prize of $5,000 awarded to the top male and smaller monetary awards given to all other participants.
The 15th Annual Alpha Beautillion will be held on Sunday June 5th at the Ruth Seaton James Auditorium, with regular tickets costing $25 and patron tickets costing $50.
Tickets are available at bdatix.bm, and for more information please email beautillion@bermudaalpha.bm. For all our coverage of the Alpha Beautillion click here.
Read More About