Sixteen new technicians were awarded certificates in major appliance repair and service on Tuesday evening in a small ceremony for family and friends at Bermuda College.
The graduates included Jennell Ingham, Benjamin Bothelho, Teiko Furbert, Bambi Pimental, Chris Brito, Kim Wade, Dwight Trott, Troy Furbert, Gerald Young, Gary Blackwell, Micah Smith, Kyle Fraser, Romario Dill, Terry Greene, Shrundae Thompson and Gary Woolridge.
The 18-month programme, which was piloted through the Division of Professional and Career Education [PACE], was overwhelmed with subscribers at its first information session.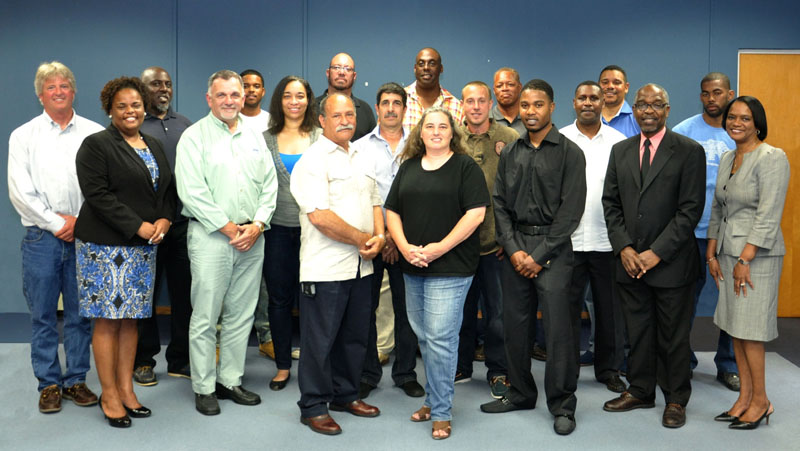 Organisers, in attempts to gauge interest in the new offering, catered for 25; 80 persons turned up, according to programme lecturer and HVAC instructor at the College, Cannoth Roberts.
"We needed appliances for our students to work on in the HVAC and air conditioning courses," recalls Mr. Roberts, "and went begging to Bermuda Gas & Utility to ask for old appliances.
"They were importing appliance technicians from Zimbabwe, because there was such a need at the time, so we decided to put our heads together to see if we could develop a partnership between the College and industry that would, at the same time, fill the obvious vacuum in this field."
Out of the 80 that showed up at the initial information session, 32 signed up – but the programme was designed for 15.
"It was a good problem," said Mr. Roberts. "We created a second cohort that met on Saturdays, while the first cohort met evenings during the week."
Through attrition, sixteen ended up staying the course. "The majority of those that stayed just wanted a second chance to re-invent themselves, or enhance their skill set. I'm pleased to say that one hundred percent of our graduates are now employed in the field," he said.
"Ironically, one of the biggest critics of the pilot programme, ended up becoming one of its biggest fans. Joshua Bates, founder and CEO of Joshua Bates Trading, Ltd., speaking at the award ceremony Tuesday evening acknowledged he thought the programme was set for failure," the College said.
"He had already sent two of his own technicians to Ohio to learn the trade, and ended up releasing them a few months after their return because of dissatisfaction with their performance ; and hiring one from the College programme – one of two females in the course. He is considering hiring another one, soon."
"I'm honoured to be here. I remember 25 years ago when the appliance business was part of Bermuda's captive retail sector," Mr. Bates said.
"Now, the technical side has made it become a tough industry. Everyone in the retail side of the business used to use independent technicians when appliances broke down, but that became more and more challenging.
"And so we decided to bring it in-house. It's not a profit centre, but it brings tremendous value in sales. Appliance service and repair has become a complicated trade. You have to keep up with technology; there's a lot more diagnostics…
"[The College] has given you a fantastic basis to start you off. The shop here is every bit as good as the shops in Ohio."
David Adderley of Bermuda Gas & Utility said the Company got on board with the College in time to help launch the programme.
"The demand for reliable technicians is desperately needed," he told the graduates. "If you can be reliable, you've won half the battle. Be there when you say you will be there.
"It's been a pleasure to work with the College to get this programme started, and I hope that moving forward, it will continue to grow. It's a lot easier to hire someone local, than to have to get all that paperwork completed [for overseas workers]. I will personally help you out, and wish you all the best of luck."
Kim Wade, spoke as the student representative for the group, saying: "When I first heard about this programme, I wasn't sure whether I should apply or not. But the programme has been a god-send to me.
"The industry has become technical, and the programme has helped me expand my horizons. I can look someone in the face and tell them I can help them. In fact I've already fixed a couple of things for my friends. I'm nervous, but I'm ready."
Mr. Roberts also thanked College President, Dr. Duranda Greene; PACE Director, Tawana Flood and Dean of the Technical Education Department, Dr. Trescot Wilson for their support of the programme, telling the students, "Bermuda College will open the gate, get you in, and then help you keep on learning and growing."
Official ceremonies for PACE graduates will take place in December 2016.

Read More About