The Jamaican Association of Bermuda [JAB] is staging its annual JAB One Love Jerk Festival on Sunday [June 12] at the Shelly Bay Community Field in Hamilton parish under the theme "One Love, One Heart, One People."
"The JAB ​One Love Jerk Festival is a family festival with emphasis on the world renowned Jamaican jerk cuisine. Jamaica is known for its versatility in food and culture. One such cuisine is the authentic Jamaican jerk which has been featured on the Food and Travel Networks as the must have dish," the JAB said.
"The Jerk cuisine has everything to do with spices and cooking method used. When done the traditional Jamaican way, its taste and scent are perfectly combined thereby giving the consumer a mouth watering, finger licking experience.
"To help us meet the demand for the cuisine at the festival, we will have on hand Fish N Tings, Jamaican Grill, D&C Grill and the JAB One Love Kitchen featuring Chopped Caribbean Theme winner Chef Andre Fowles.
"Chef Fowles is the first Jamaican and youngest chef to participate in the Chopped Caribbean theme episodes in which he won the preliminary and the semi-final rounds of that competition.
"He also placed runner-up winner in the Grand Champ Finale. Chef Fowles achievement is a historical culinary achievement on the Chopped TV program for the Caribbean.
"Menus at the festival will include: Jerk Chicken, Jerk Pork, Jerk Fish, Festival, Soup, Ackee and Salt-fish, traditional local dishes, peas and rice and others. All food and beverages will be on sale.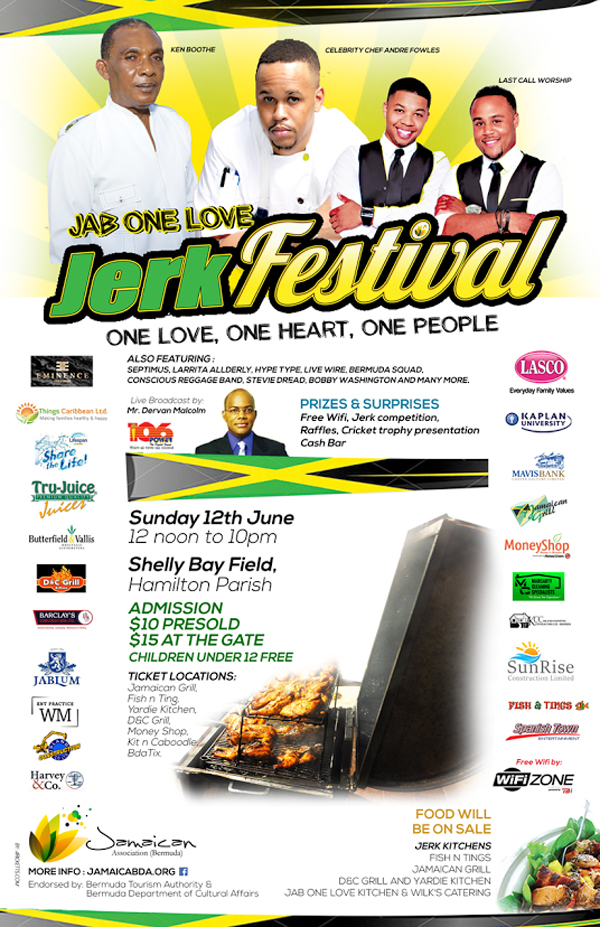 "The festival, designed as an event for spreading love, unity, fellowship and camaraderie with all peoples of Bermuda, will be aired live in Jamaica and across the globe via Power 106 FM out of Kingston, Jamaica.
"Power 106 FM has marketed itself over the years as the Jamaican Diaspora connection radio station through its very popular and most sought after broadcaster Mr. Dervan Malcolm, host of the radio programs Both Sides of the Story and Diaspora Online Live.
"Mr. Malcolm will be making his second stint in Bermuda for covering this event. The JAB will also be partnering with Bernews for providing some feeds of the event within Bermuda.
"As a run to the event, Dervan will broadcast live his Diaspora Online Radio Program from Jamaican Grill on Saturday June 11 from 8am to 11am and his afternoon Radio program Both Sides of the Story on Monday June 13th from Fish N Tings restaurant from 4pm to 7pm.
"This year's event will see an impressive line-up of musical talents with Mr. Ken Boothe headlining as our chief guest Artiste. Mr. Ken Boothe is one of Jamaica's best lovers' rock and roots reggae musical voices who has been dominating both local and international scenes for over forty years.
"Other local Jamaican and Bermudian artistes will also be on feature. These include Last Call Worship who will headline the gospel segment, Septimus, Laritta Adderley, Live Wire, Stevie Dread, Hype Type, Bermuda Squad with backing provided by Conscious Reggae Band and Spanish Town Entertainment.
"Noting the Jamaican connection to the event, we are happy that several businesses out of Jamaica will be in attendance. These include Lasco Distributors, Lifespan Alkaline Spring Water, Jablum Coffee/Mavis Bank Coffee Factory and Tru-Juice. These businesses will have local representation on hand sharing with Bermuda their products offerings.
"Worthy of note, President of the Jamaican Agricultural Society and CEO of the Mavis Bank Coffee Factory, Senator Norman Grant will be in attendance. Senator Grant is an expert in coffee testing and tasting and will be providing attendees samples of the world famous Jamaican Blue Mountain coffee through his Jablum Brand.
"Other features of the day will include a a mini jerk competition between the various kitchens participating [Fish N Tings, Jamaican Grill and D&C Grill] for the best of the best Jerk Chicken to be Judge by celebrity chef and Chopped Champion runner-up winner Mr. Andre Fowles. Mr. Fowles will also be making the trophy presentation to the winning kitchen.
"Also, there will be a presentation of the JAB One Love Cricket Trophy to the championship winner JAB Cricket team who recently played successfully against Bermuda Masters in a 20/20 cricket competition. Additionally, there will be children games, face painting, fun castles and the likes.
"Against this backdrop of increased musical entertainment andfeatures to the event this year, a minimal entry fee of $10 is being charged presold; at the gate it will be $15.
"Tickets are available at Jamaican Grill, Fish N Tings, D&C Grill, Money Shop, Yardie Kitchen and from JAB members. Children under the age of 12 are free of charge. Part proceeds from the event will go to support the JAB adoption of the Edwina Ward at the Kingston Public Hospital, Bermuda Salvation Army and the Hazel Christopher Educational Award [HCEA].
"Special thanks to our many sponsors who are supporting this event: Power 106FM and Music 99FM, Eminence Contracting, Lifespan Water, Lasco Distributors, Kaplan University, Department of Cultural Affairs, Things Caribbean Ltd, Tru-Juice, Mavis Bank Coffee Factory/Jablum. Butterfield and Vallis, Bermuda Tourism Authority, Fish N Tings, Jamaican Grill, D&C Grill, Hamilton Princess, MoneyShop, Wi-Fi-Zone [TBI], Burrows & Lightbourne, MarCarthy Cleaning Specialist, Harvey and Company, Spanish Town Entertainment, Barclay's Construction, Sunrise Construction, Stevenson Construction, Island Construction, KCC Island Painting, Keen Limited and ENT Practice."
For further information on this event, please visit www.jamaicabda.org or contact Mr. Orville Campbell, President and event chairman at 331-3387..

Read More About
Category: All, Entertainment, News