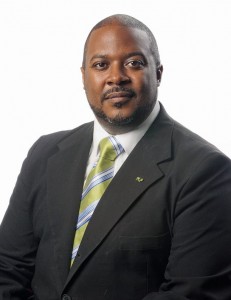 [Opinion column written by PLP constituency #33 candidate Jamahl Simmons]
For nearly a month, I and others representing the Progressive Labour Party, have been pounding the pavement in Sandys South, sharing our vision and explaining how we must begin to get Bermuda headed in the right direction.
As the PLP's candidate for Constituency 33, I am fighting for three simple things; investment in Bermudians, standing up for our seniors and protection of Bermudian jobs.
I believe in these things because growing up in Sandys I was fortunate to have a family that was willing and able to invest in my education and development, yet I understand that not everyone has the same opportunities. I believe that we have an obligation to invest in every Bermudian that has the will, but may not have the means to educate themselves.
I believe in standing up for seniors because my mother, in her role with Age Concern, often spoke of some seniors who had been virtually abandoned by their families, with few visitors and no one from their families seeming to care whether they lived or died.
I believe in protecting Bermudian jobs because I have witnessed too many of my generation, forced to train non-Bermudians to be their boss, denied opportunities because they were "overqualified," and mistreated by non-Bermudian managers desperate to stay in Bermuda and who felt threatened and inadequate in the face of their youth and superior education.
It is these experiences that have shaped my philosophy and my commitment to our people.
We are tired of seeing capable, qualified Bermudians being told that they are "lazy" or "xenophobic".
We are tired of seeing young Bermudians being forced to drop out of college because their scholarships have been cut.
We are tired of seeing our seniors squeezed for every penny they've got and being forced to choose between eating and buying medication.
We are tired of seeing Bermuda being rapidly transformed into a place where everyone benefits but US.
The PLP has put forth a number of initiatives that will place Bermudians as priorities in Bermuda.
Restoring University Scholarships for our young people
Diversifying the economy for the working and middle class
Cutting unfair taxes on our seniors
I am a Bermudian. I am proud of our people and our history of strength, adaptability and our capacity for innovation.
To the hundreds of persons we have met along the way over the last month, we thank you for allowing us into your homes, sharing your stories and giving us your confidence.
On November 18th let us send each other a message, that we believe that Bermudians must come first in Bermuda . We simply must look out for and empower other Bermudians.
To my former West End school mates , Sunday school friends, family, and wider Sandys community, I thank you for your vote of confidence in your fellow Bermudian.
- Jamahl Simmons
Read More About