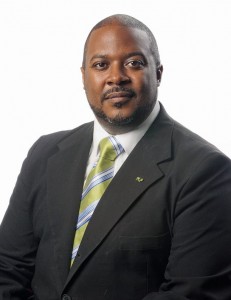 [Opinion column written by PLP MP Jamahl Simmons]
Often our Bermudian youth are told that they must be seen and not heard. Whether by design or by accident, many discourage our young people from being critical thinkers and confidently expressing themselves. Some even feel threatened by them and are fearful that their youth or education could supplant them from the positions they have earned through hard work and sacrifice.
Is it any wonder that so many Bermudians grow up with a sense of fear when it comes to expressing themselves our shy away from speaking out on the issues that matter to them? Is it any wonder that many of our societal institutions are struggling to recruit and retain young people?
Our youth crave to be heard, want to learn and want to be involved in helping to make change. Yet we sometimes make them feel as though their opinions don't matter. Bermuda is too small to be silencing or throwing away any of our intellectual capital, no matter how youthful or inexperienced it might be. The time has come for us to begin engaging with our young people and creating places where they aren't just seen, but are heard as well.
In the PLP's Constituency 33 branch, we are building an environment where opinions and ideas are welcomed from all and especially from our youth. We have pledged to get involved with the young men and women of our community, encourage them to form opinions and work with them on how they may respectfully and effectively share those opinions with others.
We are looking to engage the wisdom, knowledge and experience of our veteran community members with the energy, information and valuable perspective of our youth. Together, I believe we can do wonderful things.
When I think of one constituent, a senior who has mastered online marketing and his eagerness to teach anyone who is willing to learn, I get excited about the possibilities.
When I think of a young constituent who has a bold business idea that along with capital, just needs encouragement and the refining of his concept to a successful business model, I get excited about the possibilities.
Every Bermudian has something to offer and something within them that can help a friend or neighbour to progress. We hope that in Sandys South we can act as a facilitator for a new movement where Bermudians of all ages respect each other, value each other and work together for the betterment of all.
- Jamahl Simmons
Read More About
Category: All