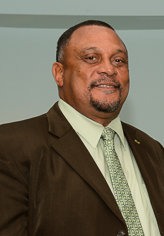 [Updated] The PLP said they are "deeply saddened to acknowledge the passing of our esteemed Party Chairman, Mr. Junior Maynard Dill," saying he "served with integrity and honor."
PLP Leader Marc Bean said, "A lifelong Trade Unionist and member of the PLP, in 2012 Mr. Dill took on the daunting challenge of Chairing the Party after our electoral defeat.
"During his tenure, he served with integrity and honor, upholding the tenets of the party and supporting the call for service with clean hands and a pure heart.
"We are thankful for his work, grateful for his contribution and join his family and loved ones in mourning his loss.
"To his wife, Wilma, his children, and family, we extend our deepest sympathies and thanks.
"We thank you for allowing Maynard to spend time with us as he strived to modernize our Party and build a Bermuda that works for Bermudians and residents."
Update 3.09pm: Premier Michael Dunkley today extended condolences following the passing of Mr. Dill.
Premier Dunkley said, "On behalf of my colleagues, I wish to extend sincere condolences to the family and friends of Mr. Maynard Dill.
"Mr. Dill was a devoted family man and a passionate and dedicated labour activist. His energy and commitment to our community will be greatly missed. May he rest in peace."
Update Sept 5, 3.22pm: OBA Chair Lynne Woolridge said, "It was with sadness that we learned this Labour Day weekend of the passing of PLP Chairman, Maynard Dill.
"On behalf of OBA Parliamentarians and Executive and everyone in Bermuda, I offer condolences and sympathies to Mr. Dill's family and friends and his PLP Family.
"Mr. Dill was passionate about serving Bermuda and Bermudians and he leaves a lasting legacy through his work as plant foreman at BELCO, as a passionate trade unionist, sports enthusiast, father and grandfather.
"We thank him for his contribution to Bermuda's history and join all Bermudians in celebrating his life whilst mourning his passing."
Read More About