The 2015 Information and Communications Technology [ICT] report was released by the Department of Statistics, with the report generated using data from a sample of 1,500 businesses with a response rate of 87.2%.
According to the report, the ICT sector contributed 3.6% or $213 million to GDP in 2015, between 2014 and 201 5employment of IT professionals decreased by 2.6% or 6 jobs, ICT-related employment decreased by 3.2% or 23 jobs and ICT-related employment accounted for 2.1% of total filled jobs in 2015, unchanged from 2014.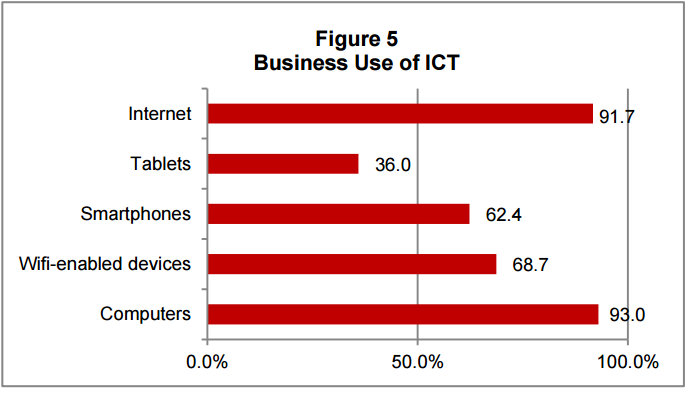 In 2015, 93.0% of businesses surveyed reported using computers for business operations, up 4.8% over 2014, and nearly 7 out of every 10 [68.7%] companies indicated the use of wifi-enabled devices to conduct business, with smartphones being the most widely used device.
The number of businesses that used the internet to recruit staff grew by 18.5 percentage points to 46.1%, and the number of businesses that provided customer service using the internet increased by 8.7 percentage points to 53.7% in 2015.
Bermuda's ICT trade deficit increased by 3.4% or $2.0 million in 2015, and the value of ICT goods imported decreased by $3.2 million in 2015, particularly x-ray apparatus, electro-diagnostic apparatus and magnetic resonance imaging apparatus.
The gross median annual income for ICT-related jobs increased 0.8% to $76,247 in 2015, which ranked above the economy-wide gross median annual income of $63,657.
The report follows below [PDF here]:

Read More About
Category: All, Business, News, technology