In advance of the America's Cup, series of meetings and training sessions are "shining a spotlight on the connection between tourism and public health," the Health Ministry said.
"The Ministry of Health and Seniors is partnering with the Caribbean Public Health Agency [CARPHA] to improve health and safety for tourists and for the local population alike through participation in the regional Tourism and Health Program," the Ministry said.
"The Ministry is supported in this endeavor by the Ministry of Tourism, Transport and Municipalities, the Bermuda Tourism Authority, the Bermuda Hotel Association and various other stakeholders.
"Increasing visitor arrivals heighten the potential for visitors and locals to transmit diseases to one another."
A meeting was held with health and tourism stakeholders including the Ministry of Tourism, Department of Health, Bermuda Tourism Authority, Customs and the office of the Chief Medical Officer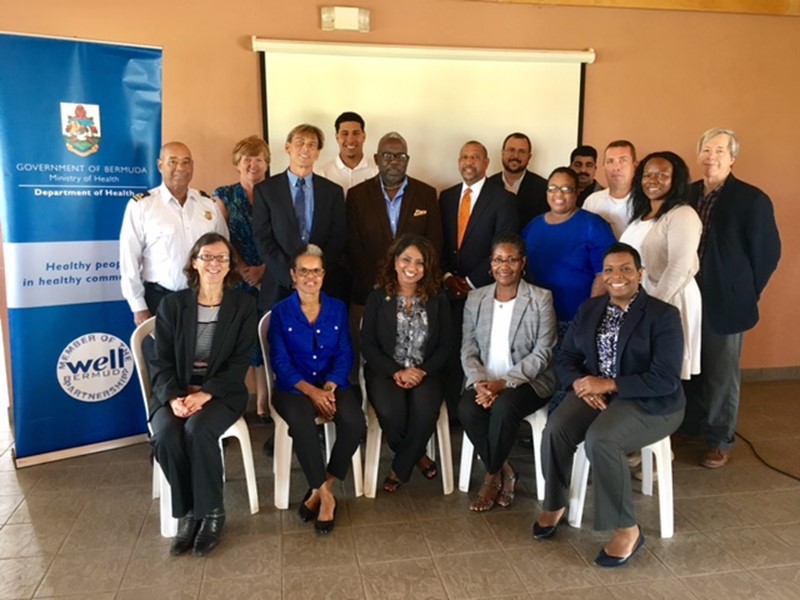 "Preparation is key to managing this threat," said Minister of Health and Seniors, Jeanne Atherden. "And it is important to train well in advance of June 2017".
The Regional Tourism and Health Program covers four key elements: building necessary public health capacity; international certification in food and environmental safety; real time information and monitoring of illness occurring among visitors and the corresponding level of alert; and health, safety and environmental sanitation standards.
Minister of Tourism Michael Fahy, said, "The aim is to improve the health and safety of visitors to Bermuda thus making Bermuda's tourism product more competitive, resilient and sustainable."
Bermuda Tourism Authority COO Karla Lacey said, "A focus on preventative measures to maintain the health safety of our destination is crucial.
"We support this initiative and will continue to work with our partners to protect Bermuda's reputation as a safe destination."
The Ministry added, "Bermuda already has a strong public health framework that supports tourism.
"For example, the Ministry of Health and Seniors' Epidemiology and Surveillance Unit monitors and manages public health risks alongside the Environmental Health section, which includes Vector Control's world class mosquito surveillance program.
"The joint tourism and health initiatives will increase the safety of Bermuda visitors and locals. In addition, a safer, healthier Bermuda tourism product will be more competitive and attractive to consumers choosing a destination.
"Over 20 people were trained in food safety during the week. Hotel-based surveillance training occurs today to complete the week of activities."

Read More About