Bermuda Motors said they are "proud to announce that A1 Technician Peter Winsby has made history by becoming the first auto technician on the Island to fully complete the Ford Motor Company's STARS training programme."
STARS – which stands for Standardized Training and Resource Systems – is an intensive web-based training programme consisting of 11 modules covering every aspect of servicing Ford vehicles.
Each module contains several related courses and to complete the entire STARS programme, Mr. Winsby had to pass more than 80 courses in total.
Each course involved detailed tutorials followed by a masters exam requiring an 80% pass mark. Some sections involved troubleshooting set scenarios in a virtual workshop where participants were only allowed three errors before having to retake the course.
Mr. Winsby said: "It has taken a lot of dedication and a lot of hours. I started doing it a few years ago but most of it has been done since 2015. Completing the programme means that Bermuda Motors is deemed Shop Competent by Ford, which is essential for us to be able to carry out work on Ford cars under warranty."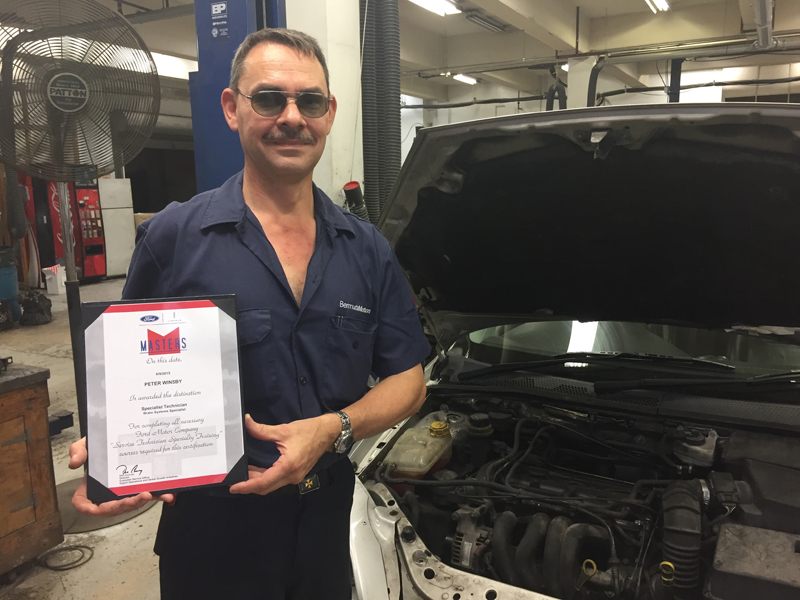 General Manager Krishna King said: "Peter's achievement is an incredible feat and testament to his professionalism and dedication. He is an excellent role model for our younger technicians."
Mr. Winsby is also dedicated to passing on his knowledge and expertise. He runs twice-weekly sessions training young Bermudians, including technicians from the Department of Works & Engineering, helping them work towards ASE certifications from the National Institute for Automotive Service Excellence.
He says learning is an ongoing part of the job and with Bermuda Motors bringing in an increasing number of electric and hybrid vehicles, training is more important than ever. "If you don't keep up with technology, you're going to get left behind. It's a simple as that," he stated.
Mr. Winsby now has his sights set on becoming a Certified High Voltage Expert and is already certified by BMW in servicing high voltage components and battery units for the new i3 all-electric vehicle.
"The technology is now so complex that a company like BMW simply won't send cars to a dealership unless it has the proper certified technicians," he said.
Mr. King said: "At Bermuda Motors we pride ourselves on quality workmanship so we place great emphasis on making sure our technicians and mechanics receive the best training possible and that their certifications meet today's exacting standards."
Read More About