[Written by James Gould]
This time last year, I was working in Dockyard restoring the Chicane Building as an assistant superintendent at Kaissa Ltd. Now I am now living in one of the world's major cities, Toronto, working for one of Canada's largest construction companies: Aecon Group Inc.
Aecon is helping to build our new airport and offered an internship program for young Bermudian industry professionals. This internship was brought to my attention by my mother, and I was encouraged to apply to the program by Kaissa and Construction Association of Bermuda.
I was accepted into the program towards the end of 2016 for the role of Health & Safety and Construction Management Intern, at the time not completely understanding the weight of the offer and how much this program would change my life and help to build my career.
In May 2017, I got on a plane to Toronto Pearson International Airport to begin my internship experience. After a couple days of company orientation, I started work as part of Aecon's Environmental Health and Safety [EHS] Advisory team, reporting directly to Aecon's EHS Director of Infrastructure, who oversees Health and Safety for Aecon Buildings [one of the many different aspects of Aecon's organisation] and is constantly travelling across Canada.
This being the case, arrangements were made for me to work with a variety of different EHS advisors around the Greater Toronto Area in order to give me an all-encompassing knowledge base for Health and Safety.
Interns at the Eglinton Crosstown Site 1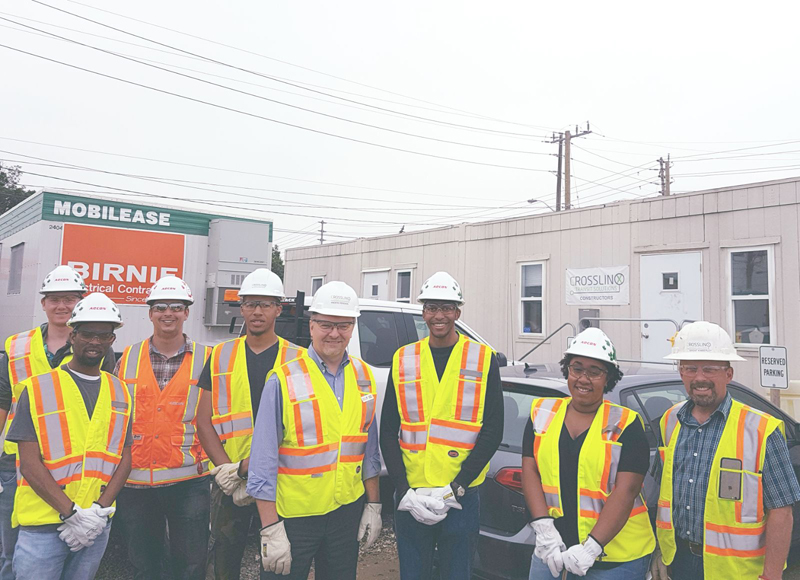 During my three months working in Health and Safety I spent time at the following projects:
Union Station – Train Shed Roof Renewal Project
Downsview Park Station – Part of Toronto's Subway Extension
Aecon Foundations – Working on the Eglinton Crosstown Light Rail Transit [ECLRT]
Aecon Utilities – York Region Rapid Transit Corporation [YRRTC] Yonge Street Rapidway Project
Cambridge Fabrication Facility and;
Aecon Compensation Claims Department
At each of these projects, I was assigned a different element to focus on as it relates to the Airport Redevelopment Project in Bermuda. Following the list above, my focus was on: public safety/access & egress, safety audits and personal protective equipment, ground disturbance at both Aecon Foundations and Utilities and welding hazards and air quality controls in the fabrication facility.
As well as being on site daily and working with the EHS team, I was offered the chance to undertake a variety of training courses. One of the training courses applied to me and my trade directly; Work at Heights Training, so in June I finally dealt with the irony of being a roofer with no official work at heights training certification.
Following that training, I requested that I take the trainers training for work at heights, I was signed up for the course and I am now officially a work at heights trainer for Ontario!
Top Left: YRRTC Yonge Street Rapidway Project, Top Right: Downsview Park Station Concept, Bottom Left: Union Station Concept, Bottom Right: ECLRT Mount Dennis Station Concept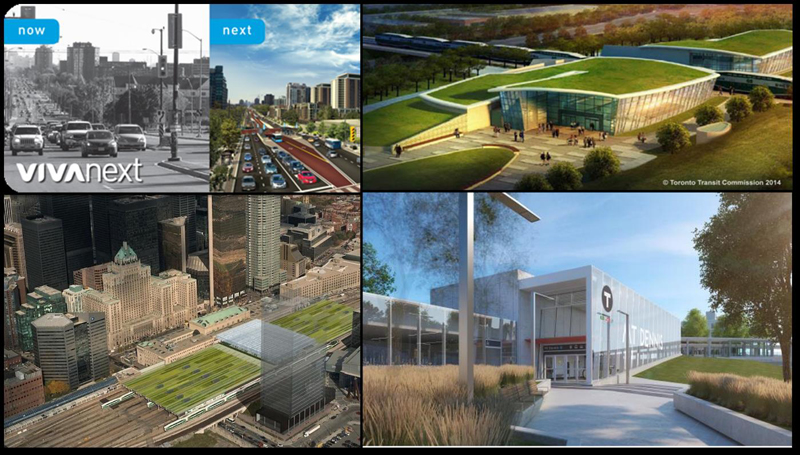 My final course of action in the EHS Advisor role was to work with Aecon's compensation claims department. This is where all incident and accident reports are dealt with, the claims team is Aecon's direct contact with Ontario's Workplace Safety & Insurance Board [WSIB].
The idea behind me working with this team was to gain a better understanding of where all my potential reports would go and how they are handled and entered into the system.
After three months working with the Health and Safety team, I transferred over to Crosslinx Transit Solutions where I will spend the remaining 3 months of the internship program.
I am currently working on the Mount Dennis site of the Eglinton Crosstown LRT project; a 19-kilometer rail corridor with 25 stops – part of an 8.4-billion-dollar investment from the Ontario Government to expand transit in Toronto. I am assisting all members of the Mount Dennis team, from project coordinators and quality assurance to site superintendents.
I am doing my best to be a productive asset to these teams and companies and believe that I am progressing well. This internship program has helped with my continuous educational development and I am grateful for the time and effort of the people that I have and am currently working with. My hope is that, as we build up Bermuda's Health and Safety Culture, that our construction industry will accept it with little push back.

Read More About