Team Hurricane Basketball Academy is entering its 4th year as a registered charity continuing its mission to provide many life-enriching opportunities for its student-athletes.
Team Hurricane Basketball Academy is a free youth program that uses the great sport of basketball as a vehicle for positive change in the lives of young people in Bermuda. Team Hurricane enters the 2017-2018 campaign eagerly seeking new players to join its family.
Founder/Head Coach Doug Reed says, "We are an inclusive, free year-round program that offers open enrollment, thereby allowing the youth of Bermuda to join Team Hurricane at any point during the year and enjoy our diverse slate of programs.
"We train at Warwick Academy on Saturdays and I invite players and their parents to come to our practice on any Saturday. They may come by between 2:00pm & 4:00pm whereupon they'll be able to meet our young student-athletes and witness first hand the Hurricane Way of training."
To highlight Team Hurricane's eclectic programming beyond its Saturday training, the month of September saw the charity organization hold two free camps featuring experienced college coaches from the United States:
Coach Jon Yeh – Truett McConnell University [September 8 – 10]
During the weekend of September 8 – September 10, Team Hurricane Basketball welcomed Jon Yeh, the Head Basketball Coach at Truett McConnell University, a private, Christian, coeducational liberal arts college located in Cleveland, GA.
Coach Jon Yeh watching Naphtali Smith and Kayla Raymond.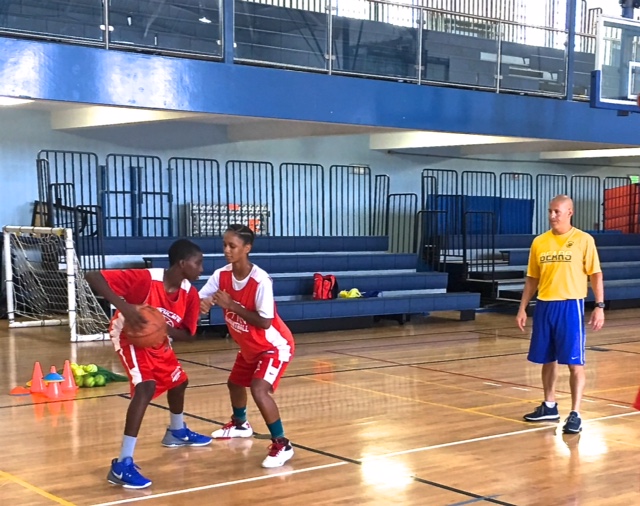 Held over the course of three days at Warwick Academy, Team Hurricane Basketball Academy's Founder and President, Doug Reed, handed the reins to Coach Jon Yeh. Team Hurricane's student-athletes learned fundamental training techniques including proper footwork, ball-handling, shooting and on-court communication skills.
More importantly Team Hurricane players were able take way life lessons from Coach Yeh to apply to their everyday lives: Be humble in your interactions with others, be hungry for success both on and off the court, and most importantly, be helpful to your fellow man.
Coach Yeh with Team Hurricane.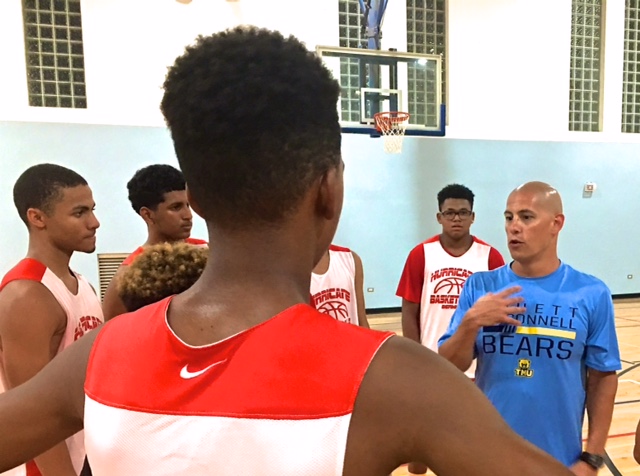 Coach Donnie Arey – Warner University [September 15 – September 17]
The following weekend of September 15 to September 17 saw Team Hurricane Basketball Academy welcome Donnie Arey, who has duel coaching roles: he serves as Assistant Coach & International Recruiter at Warner University [Lake Wales, FL], and is Lead Basketball Clinician with the National Basketball Association [NBA].
Coach Arey [far left] with Team Hurricane.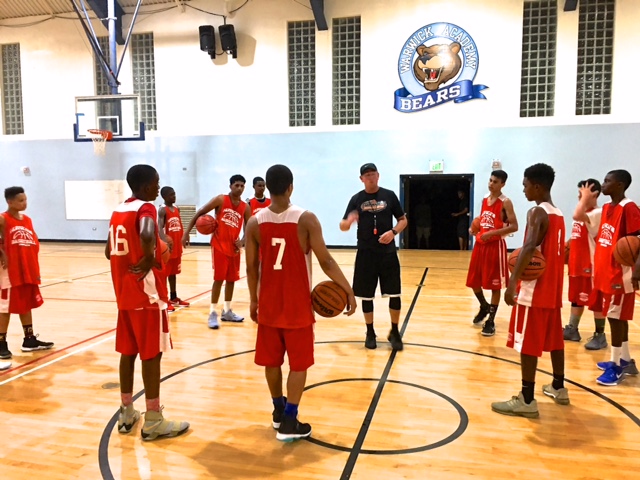 Coach Arey's camp experience targeted advanced level performance basketball training done at a High School, University and Pro level.
The focus was on drills that prepared Team Hurricane players for the fitness and skill levels needed to compete well at their current and future basketball opportunities.
Coach Arey shared, "The purpose of this 3-day session was to challenge Team Hurricane members while also allowing them to have fun."
One of the great takeaways from the Coach Arey camp: "Never let an opposing team out-effort you."
Coach Donnie Arey with Aiden Cassidy.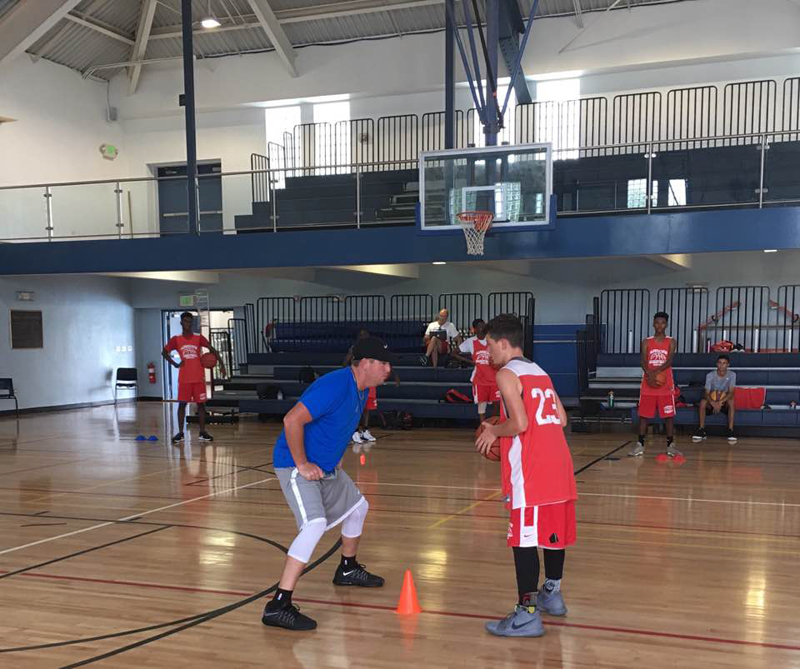 Summer of Fun
The two fall camps came on the heels of a summer of fun for Team Hurricane members. For the fourth year in a row, Team Hurricane Basketball Academy returned to Syracuse University & the Jim Boeheim Basketball Camp [August 1 – August 5, 2017].
This experience once again enabled the Team Hurricane Basketball Academy to promote the college experience to its young people while also providing Team Hurricane players the opportunity to learn the game the same way the renowned Syracuse University Orange squad is coached and, in the process, help the sport of basketball grow in Bermuda.
This year, 12 student-athletes traveled to Syracuse, which included for the first time ever our Lady Hurricane, Kayla Raymond who participated in Quentin Hillsman Elite Basketball Camp for girls. Kai Lowery was named to the All-Star Game [NIT Division], while Darien Williams team won the Championship Game in the NCAA Division. Darien's team won the championship on his game winning shot in the closing seconds.
Lady Hurricane Kayla Raymond at Syracuse University's Coach Q's Elite Camp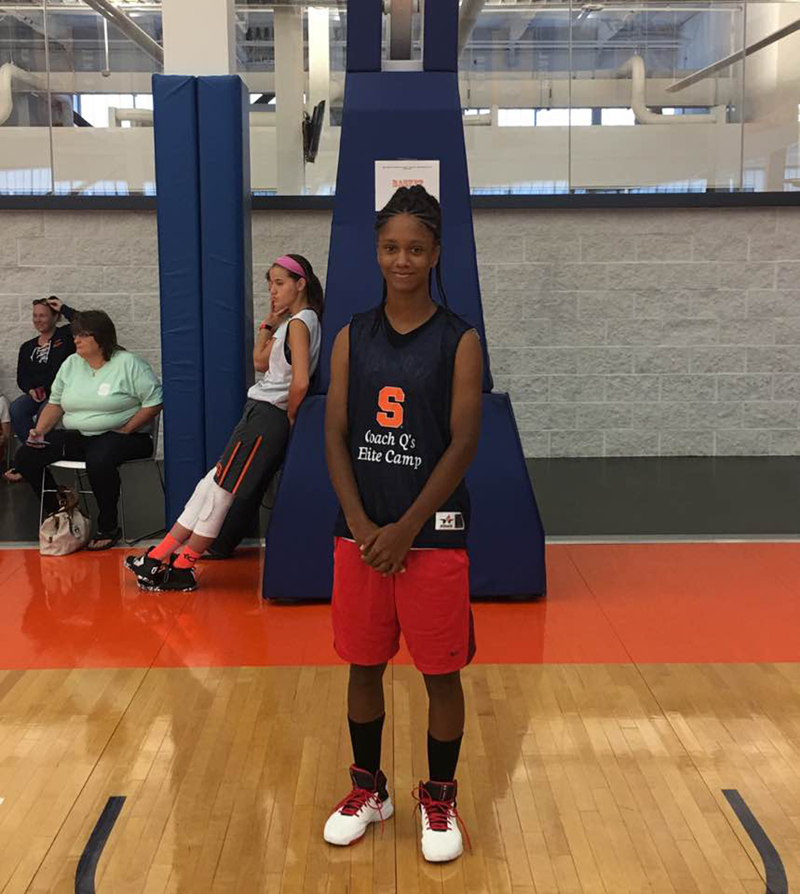 Berkeley Institute's Seth Hardtman reflected on his camp experience, saying: "My experience on my first Hurricanes trip was great. I had loads of fun at the camp, and just to meet new people and hanging with my teammates at the same time was just really fun. At first coming to the camp I was a little nervous but as the second day came along it was normal.
"My team at the camp was the place I met my main friends at the camp. They were Nolan Izzo and Austin Hartsell, who were really good players and cool people to be around. The camp as a whole was fun and I feel like I learned and improved from it.
"The highlight of the trip for me, though, had to be Coach Jim Boeheim coming to speak to us and answering questions. As well as meeting multiple members of the actual Syracuse team. In conclusion the trip was amazing and I would love to go again next year."
Seth Hardtman, top row, second from left with his teammates on the Syracuse University campus.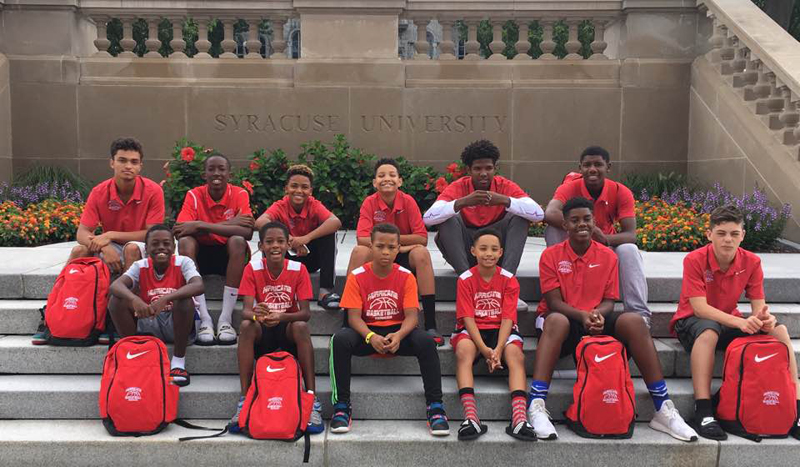 In addition to the Syracuse University camp experience, Team Hurricane sent four players to participate in Global Squad, an intensive summer basketball program run by the Alexander Basketball Academy. Bryce Gonsalves, Jorel Smith, Jacy Lowery and Chrisitan Liyanage attended the month long academy held at The Hill School, in Pottstown, Pennsylvania from June 28th to July 27th.
Global Squad Experience provides international student-athletes with an opportunity to get recruited by U.S. colleges and universities, by putting them in front of college coaches, while providing elite training required to play at the next level.
Bryce Gonsalves, Christian Liyanage, Jacy Lowery & Jorel Smith 

The life enriching opportunities that Team Hurricane Basketball Academy provides for its student-athletes has been made possible by all who have contributed to the success of Team Hurricane Basketball Academy: ABWilson Photography, ACE, Aelous Capital, Allied World Assurance, Axis Capital, Bank of Bermuda Foundation, Bermuda Community Foundation, Butterfield & Vallis, FIL Limited, Jardine Matheson International Services, KPMG, Orbis, The Peter Cundill Foundation, Tokio Millenium, XL Catlin, Zurich Insurance Company, as well as our individual donors. Their gracious support allows Team Hurricane to develop the youth of Bermuda through sports and education."
Team Hurricane Basketball Academy is for players aged 5 – 21. Coach Reed strongly encourages girls to come out and train as the Team Hurricane seeks to strengthen its Lady Hurricane girls division. To enroll your child, please contact Coach Doug Reed at 504-1962. Also, please visit their website: www.teamhurricanehoops.com.

Read More About