Six Bermudians have completed an internship programme in Toronto and have all received job offers on their return home.
The programme was a partnership between Skyport, Aecon Group Inc. and the Bermuda Government, Department of Workforce Development [DWD]. It was given the greenlight once the project agreement was signed earlier this year.
"Following a thorough application and vetting process, Aecon helped to place six candidates representing a range of industry disciplines – including engineering and architecture – with both Aecon and several consultancy firms across Ontario that have a level of involvement in the Bermuda Airport Redevelopment Project," a spokesperson said.
"The objectives of the program included the development of industry knowledge, leadership and technical skills, as well as building their professional networks, and experiencing Canadian culture.
"Je-Shae Pace, 26, Barak Bremar, 23, Owen Chisnall, 22, James Gould, 24, Ricardo Graham-Ward, 24 and Jordan Lawrence, 20, left the Island in in the spring and spent the past six months gaining invaluable experience in Toronto.
Ricardo Graham-Ward, Jordan Lawrence, Barak Bremar, Je-Shae Pace, James Gould and Owen Chisnall.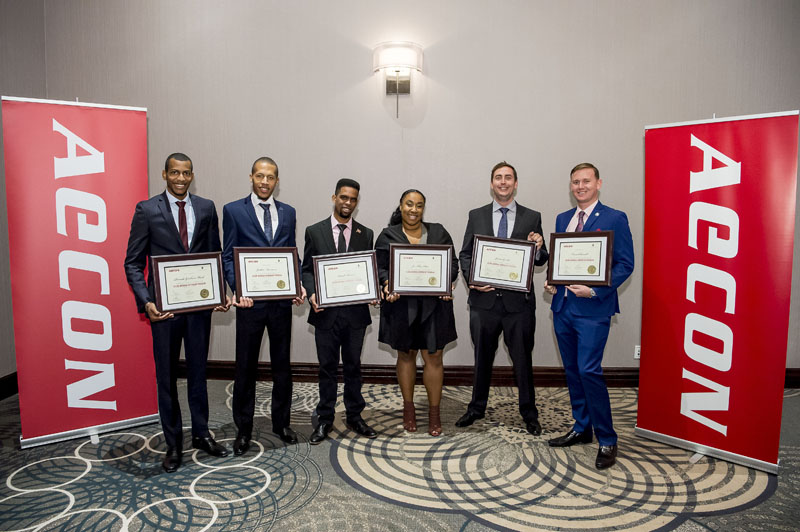 Frank Ross, Aecon's Executive Director, Infrastructure, says: "These six Bermudians have spent the past six months working with top companies in Canada and learning from the best in their industries – our design and architecture partners on the Airport Redevelopment Project.
"They return to Bermuda equipped with the knowledge needed to further their careers in engineering, architecture, health and safety and design. We wish them all the best in their endeavours moving forward."
The company added, "Throughout the course of the six-month internship, each of the candidates was paired up with an "Aecon Buddy" engineer to assist with navigating a new work landscape, networking, and answering any questions. The interns were also responsible for making monthly presentations to members of Aecon's Senior Leadership Team about new challenges and lessons learned.
"Je-Shae interned with Scott Associates Architects to gain experience in the field of architecture, which she studied at university. Barak worked with Mulvey & Banani International as an electrical design intern. Owen spent half of his internship with H. H. Angus and half with Aecon to gain experience in the fields of mechanical engineering and project safety.
"Meanwhile, James interned with Aecon to experience in construction management and safety. Ricardo's internship with WSP Global and Quinn Dressel Associates allowed him to further his career in civil and structural engineering. Jordan spent three months with H. H. Angus and three months with Aecon gaining invaluable experience in mechanical engineering and construction management.
"All six of the interns have received job offers and Je-Shae is currently working with Skyport as a Project Coordinator."
Aaron Adderley, President, Skyport, says: "We are happy to have Je-Shae join the Skyport team. She is a young vibrant professional and her skill set is a welcomed addition to the technical team. This internship programme was about investing in young, talented Bermudians and providing them with opportunities to grow professionally, which aligns with our community investment goals at Bermuda Skyport."
The Bermuda Internship Program Team consisted of Executive Program Sponsor Frank Ross; Aecon Concessions President Steve Nackan; VP of Human Resources and Program Director Gordana Terkalas; Human Resources Generalist and Program Lead Val Volasko; Human Resources Manager and Program Support Lorelle Machado; and Immigration and Mobility Manager Lisa Reich.

Read More About