The Bermuda Tourism Authority's [BTA] welcome reception for the second annual Bermuda Principles Conference was held at the Fairmont Southampton recently, with BTA Chief Investment Officer Andy Burrows offering welcome remarks to the delegates in attendance.
A spokesperson said, "The Bermuda Tourism Authority was pleased to host the welcome reception of the second annual Bermuda Principles Conference at the Fairmont Southampton yesterday. Bermuda Tourism Authority Chief Investment Officer Andy Burrows offered welcome remarks to delegates, acknowledging the work of UK-based science lecturer Dr Carika Weldon, a Bermudian who has been the driving force behind bringing the conference home to Bermuda for two consecutive years.
"The BTA has profiled Dr Weldon as a Bermuda "Bring It Home" Hero.
"Premier David Burt and Bermuda Business Development Agency CEO Ross Webber were also were a part of the welcome reception."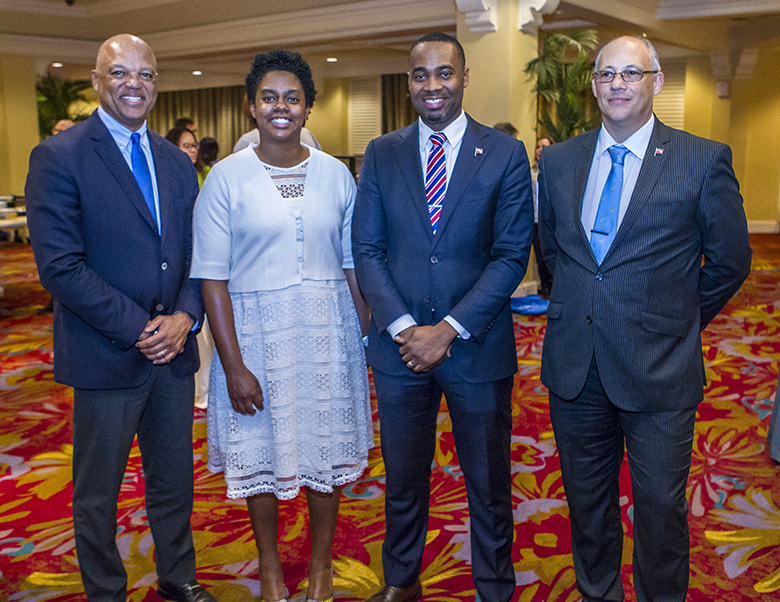 In his welcome remarks, Mr. Burrows said, "On behalf of the Bermuda Tourism Authority, it is a pleasure to welcome you, our visitors, here for the second annual Bermuda Principles Conference.
"I wish to also thank all the local residents who have contributed to making this event a success – for the second consecutive year. Like you, we are proud of the role we, the BTA, have played to bring this Impact on Splicing Symposium back to Bermuda.
"It is well known that this gathering is a reboot of a pivotal moment in science history that happened out here in Bermuda 20 years ago. We are so grateful for the ingenuity of Dr. Carika Weldon, a Bermudian who rediscovered Bermuda's connection to the Human Genome Project and made it relevant again.
"That is why you are all here. Science – and indeed our tourism industry – is benefiting because of her ingenuity. This journey rings familiar; it is not unlike Bermuda's journey through a generation of tourism.
"Thirty years ago, Bermuda was the darling of the global hospitality industry and, then was forgotten for many years, disappeared from consideration by travelers. Well now we are back.
"2017 produced the highest number of total visitors on record for Bermuda – a milestone moment in a monumental comeback. Our visitors are younger. Hotels are being developed. The excitement is back.
"The work of Bermudians around the world, who bring tourism business back to Bermuda, indeed back home, is a notable part of this comeback. We know this rebirth in tourism would not be possible without the passion and love-for-country of people such as Dr. Weldon.
"In our office, we call these Bermudians "Bring It Home" heroes, the people who are leaders in their field around the world and are proud to use their influence to bring conferences, groups and workshops back home to Bermuda. We are grateful for the role Dr. Weldon and many others are playing to get Bermuda back to where she deserves to be.
"However, while you are here, be sure to get out and experience what all the excitement is about. If you have been dreaming about pink sand beaches, you should find some time to walk on some, if not all of them.
"If you have been fantasising about the local cuisine, we, indeed all of us, are happy to guide you to the island's best eateries.
"Above all else, make sure science is not the only thing you experience while you are out here because once you have gotten to know our true DNA, you will be back, we promise you, many times in the future.
"Welcome. Enjoy the conference. And enjoy Bermuda."
For more on the Bermuda Principles Conference, which is being held from February 21 to February 25, see the event website.

Read More About