After racing to victory in the Bermuda Day Half Marathon Derby, Lamont Marshall said that winning it for the third time was a special moment and it was a great way to cap off his season, and thanked the race committee, his sponsors, family and friends as well as the "awesome crowd."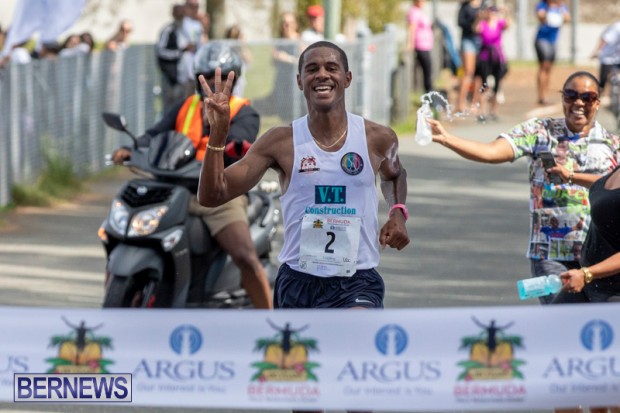 Speaking after the race finished, Mr. Marshall said, "I feel blessed. I thank God for so many years for allowing me to showcase my talents. I'm getting older, but I'm still getting stronger. I was able to defend my title, I am so grateful for my sponsors, each and every one of them, for financing my athletic endeavors, and my family and friends for really supporting me through the entire course.
"I was pleased with the victory all and all, and my time; it's my fastest so far. Yes, I was good for sub 1:10. I went out aggressive and went for it and I wouldn't change anything. I wanted to really attack the first five miles because they were kind of forgiving and flat.
"As long as I maintained a halfway decent pace to secure a victory, I was pleased. So overall with this season, this is a great way to cap it off. I had two national records in 5 and 15k, and then to win May 24th, and defend my title out of the east and west – overall, a great season for me."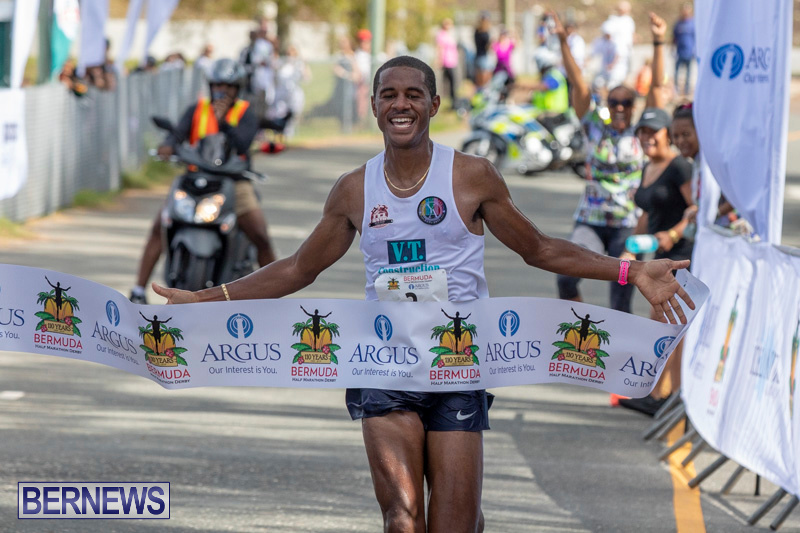 When asked which of of his three Bermuda Day victories is the most meaningful, Mr. Marshall said, "This was the most comfortable. I was under a lot of stress and pressure in 2016, because I had never won a race. I felt comfortable, relatively speaking, the whole way.
"I don't think I really could have run too much faster if someone was pushing me. I don't know, but sometimes, you know, it's mind over matter. But overall, I would definitely say to win it the third time, is the most special for me."
When asked how it feels to join an elite company of runners to have won the race three times, Mr. Marshall told Bernews, "It's everything. I've always looked to be a record breaker, each and every year, on the track and on the roads, I try to break records, and many of them are now my own national records.
"So to say that I won it back to back and on my third time, it's really a small amount of athletes, Bermuda's legends that have done it, so I am glad to join that history book," he added.
When asked about the toughest part of the course running from the east, Mr. Marshall said, "I would say coming up past Devonshire Church. Because of where it's placed, you've been running, for me, I think almost an hour, and it's not so much as how – it's a steady incline, but you've been running for so long. Burnt House is maybe mile six or seven, this comes at mile nine or ten, so it's late in the race and it's tough because it breaks your rhythm."
After Mr Marshall finished the race, children could be seen asking to take a photo with him, and when asked about how he feels being a role model, he told Bernews, "To look at me as a role model is so special. I believe it was on Tuesday, I was part of the Purvis Primary School, they had an assembly and it was based on Bermudian Excellence, and I was just touched.
"I want to see the sport grow," he added. "I just want to give encouragement to each and every one of them that participated. The sky is the limit in this sport."

Read More About