Dr. Malcolm Brock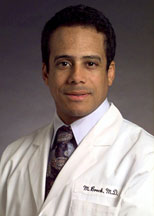 Dr. Malcolm Vernon Brock is a world class cancer researcher and physician. He has published over 70 original research papers, book chapters and review articles and won various awards.
He conducts cancer research at the Sidney Kimmel Comprehensive Cancer Center at Johns Hopkins.
Dr. Brock has been the recipient of research funding from the National Institutes of Health [NIH], the Thoracic Surgery Foundation for Research Excellence, the American College of Surgery Oncology Group and the Society of Surgical Oncology.
A specialist in thoracic oncology, he is an Associate Professor of Surgery and Oncology at Johns Hopkins, a world renowned hospital.
His research summary from Hopkins Kimmel Center:
Dr. Brock's research has focused primarily on developing and clinically applying molecular biomarkers, namely DNA methylation, to facilitate the early detection, accurate prognosis and specific chemosensitivity of lung and esophageal cancers. Current projects include using DNA methylation as a more accurate molecular indicator of lymph micrometases in a large cohort of lung cancer patients and as a means of predicting sensitivity of esophageal cancer to neoadjuvant chemotherapy based on endoscopic biopsy samples.
Born in Bermuda on February 27, 1964, he is the son of Mansfield [Jimmy] and Beverly Brock. He grew up on Cox's Hill, Pembroke and attended West Pembroke Primary School, Warwick Academy and Bermuda College.
He obtained his undergraduate degree from Princeton University, and continued on for postgraduate oriental studies at Oxford University.
Dr. Brock went on to obtain his medical degree from the Johns Hopkins School of Medicine in Baltimore, then spent eight years employed by Johns Hopkins. He was the chief resident in cardiothoracic surgery before his appointment to the faculty.
A resident of Balitmore, Maryland for many years, Dr. Brock is the father of three daughters.
An interesting sidebar: Dr. Brock is fluent in Japanese.
Some of Dr.Brock's accomplishments include:
Chair of the Department of Surgery Diversity Committee
Peer reviewer for the Annals of Thoracic Surgery medical journal
Peer reviewer for the Journal of Clinical Oncology medical journal
Peer reviewer for the Archives of Surgery medical journal
The National Institutes of Health list him amongst their 'Notable African American Academic Surgeons'
Won the George Zuidema award for excellence in surgical research
Won the Vincent L. Gott award for research in cardiovascular surgery
Elected to Alpha Omega Alpha, a prestigious medical honours society
Published over 70 original research papers, book chapters and review articles
1985 Rhodes Scholar