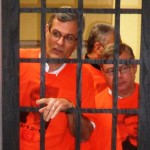 Scroll down to check out photos and a report of some of Bermuda's biggest names 'behind bars'.
The second annual 'Celebrity Lock Up' was held Friday March 12 at Number Six Shed on Front Street, with a cross section of prominent Bermudians generously donating their time for the event, allowing themselves to be placed 'behind bars'.
Convicts-for-the-day included Comedian Bruce Barritt, former professional footballer Shaun Goater, Craig Cannonier of the Bermuda Democratic Alliance, Businessman E. Michael Jones, St. Georges Mayor Kenny Bascome, Insurance executive Robin Spencer Arscott, Ex-Commodore of the RBYC Ralph Richardson, Wine Executive Valerie Crisson, Attorney General Kim Wilson, Landscaping company owner Jeff Sousa, Suzanne Roberts-Holhouser and more.
Attorney General Kim Wilson was charged with "aiding and abetting the criminal justice system". She set up an impassioned defence, claiming her rights were violated during an illegal and improper arrest. Attempting to bargain her $1,500 fine down, she was threatened with a $2,000 fine and subsequently accepted the initial bail amount. In a desperate move, she claimed she should be exempt from bail as she is wearing an ankle bracelet which tracks her every move.
Bermudian football great Shaun Goater was charged with "promoting sports". His initial protests were of false arrest, with Mr. Goater claiming he was told that he was being taken to a football game and arrested instead. He then attempted to bluster his way out of the charge claiming he encourages people to be couch potatoes. The former Manchester City star did receive support from the court attendees, with chants of "Free the Goat" being heard.
The BDA's Craig Cannonier was extremely vocal in his own defence, at one point the Gas Station Manager was desperately pleading to the court attendees for assistance screaming "free Gas for anyone who helps me".
Bruce Barritt was quite interruptive throughout the proceedings, continuously yelling at the judge. The Barritts Beverage distribution boss`was charged with 'coke distribution'.
St. Georges Mayor Kenny Bascome was one of the few to show remorse, and plead guilty. He did so under the grounds that his wife was very upset with him.
Sousa Landscaping's Jeff Sousa was charged with "growing herb". Looking completely unrepentant, he was escorted in to the event handcuffed, wearing a hoodie, and carrying a stereo blaring the Collie Buddz hit "Come Around".
The most hardened of the bunch, E. Michael Jones appeared to attempt to bail himself out with some form of fake money, a counterfeit money order from "Eastern Union", all combined with a letter from his mother.
Valerie Crisson, an executive in the wine business, was well prepared having brought her own lawyer who attempted to clear Ms. Crisson of the charges, stating she doesn't supply alcohol to others as she drinks it all herself.
Robin Spencer-Arscott, despite the fact that as a senior insurance executive he must surely make a good living, shamelessly attempted to offer an initial bail amount of $6, which was outright rejected by the presiding judge.
Bar owner Rick Olson was charged with promoting the shame of Front Street. Prior to paying his bail amount of $1,500, he attempted to blame his wife for his incarceration.
Shades of Bermuda's gang problems were visible with prisoners making vocal complaints about being locked up with "Somerset" or "St. Davids" people.
Click to enlarge images:
The unique event serves to raise funds and awareness for drug prevention in Bermuda. In order to be 'released' from lockup, sufficient bail must be raised, which is of course then donated to Pride Bermuda.
The event was exceptionally well organized, and very enjoyable. It's an annual event, so mark your calendars for next year and enjoy a fun afternoon while supporting a very worthy cause.
Over $50,000 was raised through the event in 2009. Participants who donated their time last year included Bruce Barritt, Dennie O'Connor, E. Michael Jones, Jonathan Brewin, George Scott, Mayor Mariea Caisey, Nathan Moore, Radio DJ Patrina O'Connor, Phil Barnett and Police Spokesman Wayne Caines.
Pride Bermuda began in 1986 after four parents [Wendy Lambert, Judith Burgess, Vaughn Harvey and Diana Corday] attended an American Pride Conference and brought the concept back to Bermuda. They decided to start their a local organization designed at educating parents about the role they play in preventing their child from getting involved in drug abuse.
For more on Pride see their website
Click here to view a few videos of the "prisoners"
Read More About