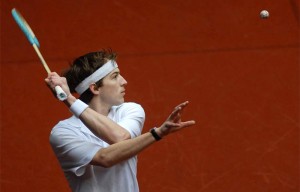 Bermuda's James Stout successfully defended his title as the World Champion Rackets player with a determined performance in front of a packed crowd at the Queen's Club in London on Saturday evening.
Stout was making his first defence of the title after winning the World Championship in 2008, and he was required to play two matches against the challenger, England's Alex Titchener-Barrett. The first match had been played a week earlier on Stout's home court at the New York Racquet and Tennis Club, and the second match was at the Queen's Club in London where Titchener-Barrett enjoyed the support of a strongly partisan home crowd.
Stout had established an almost insurmountable lead in New York when he won their first encounter 4-0 in a best of seven match. This meant that he had to win just one game in the second leg because Titchener-Barrett could only win a maximum of 4 games in their second leg match which was also best of 7 games. If Titchener-Barrett could win this 2nd match by the same score of 4-0, the title would go to the player who had won the most points in both matches.
Stout started the 2nd match in confident style and was leading 14-7, just one point away from the championship, but he let the lead slip through his hands as Titchener-Barrett tenaciously fought for every point and managed to level the game at 14-14. Stout chose to go to 17 points to settle the first game, but lost it 14-17 to give his opponent some hope that he could do the impossible.
With a cheering crowd behind him Titchener-Barrett took an early lead in the second game, racing to 8-3, with Stout appearing to be in trouble. But after Stout won back his service, the two players treated spectators to what was described as the best rackets play of the entire challenge. Titchener-Barrett's hard hitting style contrasted with Stout's ice-cool approach. Stout was volleying the ball at every opportunity, straightening it off the angled shots, and taking the ball early. From 8-3 down Stout was unstoppable as he won the next 12 consecutive points to close out the game 15-8, and retain the World Championship with a superb score of 5 games to 1 in their two matches.
This was a brilliant win by Stout who is the only Bermudian to ever win this championship, and is only the second person from outside the U.K or the U.S. to win the title in the entire history of the game.
Read More About