Today [Feb 22] in Magistrates Court five men appeared for mention, and are due to reappear in March, 2011. All five face drug charges, with officials alleging the five conspired to import cannabis said to be worth $3.4 million.
Carlos Rogers, 41, and Kwesi Hollis, 36, who had sailed from the Dominican Republic, were charged last month alongside three other men – Bilal Shakir, 39, Kinola Simons, 30, and Shaun Johnson, 27. File photos from their court appearance last month: top row left is Kwesi Hollis, with Carlos Rogers on the right. Bottom row left is Shaun Johnson, with Bilal Shakir on the right.
Mr Rogers and Mr Hollis left the Dominican Republic on December 1, 2010 on the Carefree IV yacht, and were due to arrive in Bermuda that same month. On January 3rd, local officials received a report from a passing boat that they had been in contact with the Carefree IV, saying the crew were safe, and requested provisions and fresh water to continue their voyage to Bermuda. On Friday January 21, seven weeks after leaving their destination, the Carefree IV sailed into St George's Harbour, having been boarded by armed Police officers.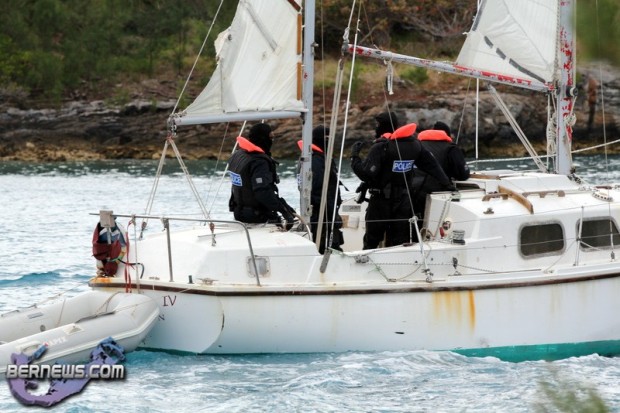 Police arrested both Mr Hollis and Mr Rogers and searched the boat before hoisting the boat ashore, and transporting it to Southside Police Station. Earlier that same morning, the Marine Police stopped a Boston whaler in the North Shore area, seized a quantity of suspected narcotics and arrested three men.
Read More About
Category: All, Court Reports, Crime, News