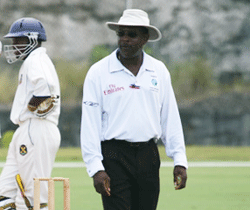 Bermuda Cricket Umpire Association [BCUA] Vice President Stephen Douglas has been selected to officiate at the Pepsi ICC World Cricket League [WCL] Division 7 Tournament to be held in Gaborone, Botswana, May 1 to May 8, 2011.
The World Cricket League Division 7 Tournament is a six-team competition in which Botswana, Germany, Japan, Kuwait, Nigeria and Norway will compete for two spots in Division 6.
Mr Douglas recently umpired the 2011 ICC Americas U19 Cricket Tournament in Fort Lauderdale, Florida, February 06 – 13, which was his fourth regional Under 19 tournament. This will be the first time that he will be umpiring on the African Continent.
BCUA Secretary, Richard Austin, said "The BCUA congratulates Stephen on his assignment to the WCL Division 7 in Botswana in May. This opportunity to showcase his talents at an ICC Global Event is recognition for his sustained excellent performance at the regional level and will be a tremendous boost for ICC Americas umpires and further proof of the quality and depth of Bermuda's local umpires."
President of the Bermuda Cricket Board, Mr. Reginald Pearman said "On behalf of the BCB, I would like to congratulate Stephen on this appointment to officiate at the WCL Division 7 Tournament. I am pleased to recognise that our local officials are continuing their track record of success and credibility at the international level."
"For a small island such as Bermuda to witness one of its own fly 10,000 miles to officiate in a global tournament is a magnificent achievement. I trust this will inspire further progress amongst our umpire and scorer community."
Read More About