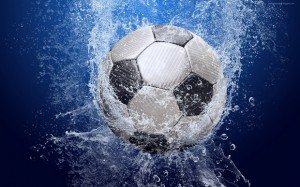 Soccer@Sea, Bermuda's Brazilian Football School [BBFS] and Bermuda's Sports Management Group [BSMG] have formed a partnership.
Soccer@Sea compromises groups going on Royal Caribbean Cruise ships, where they undergoing training as well as meet up with local teams in port to play 5-a-side games and beach soccer tournaments.
Owners of Soccer@Sea Steve & Karen Everitt said. "We will be bringing teams of soccer players to Bermuda on Royal Caribbean Cruise Ships to play local teams."
"This will give all the kids a taste of international soccer. Also with us will be international soccer coaches giving Bermuda's local players the opportunity to meet and talk with them about soccer in other parts of the world."
BBFS President Dennis Brown and BSMG President Blankendal attended the NSCAA 2011 Conference, which was held in Baltimore earlier this year. During the 2 day symposium and networking event, BBFS & BSMG met Mr and Mrs Everitt of Soccer@Sea.
"The core training of BBFS is based on Futebol de Salao which is the forefather of what is now known as Futsal. Having Soccer@Sea partner with BBFS will offer our members the opportunity to develop long lasting friendships and test their skills against overseas opposition."
Dennis Brown and Cal Blankendal said, "Soccer@Sea is in the process of making their first official visit to Bermuda April 8th & 9th 2012. BBFS and BSMG will aid Soccer@Sea with their on island setup and look forward to showcasing the best Bermuda has to offer to their members, both on and off the field of play."
Read More About