[Updated] Yesterday evening [July 31] the 34-foot 'Balley Ho' ran aground off Spanish Point with 20 persons onboard. The boat struck a reef and began taking on water at approximately 9:15pm.
Boat passengers were transported via other vessels to Darrell's Wharf, and as of this morning, the boat remains in position just off Spanish Point Boat Club: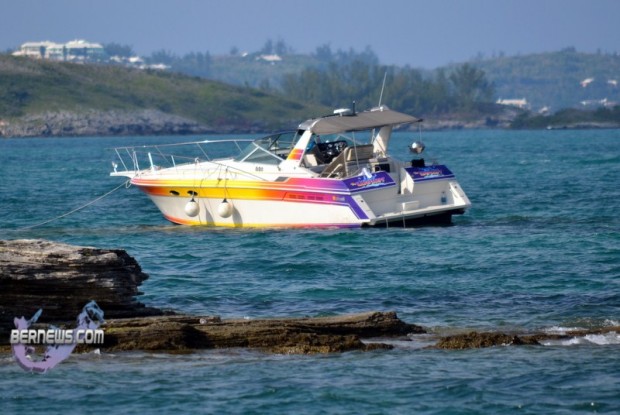 A spokesperson from the Bermuda Maritime Operations Center said, "On Sunday 31st July at 09:25 pm Bermuda Radio received a call from the 34 ft pleasure craft 'Balley Ho' to report that they had ran aground off Peter Tuckers Bay, Spanish Point with 20 persons onboard.
"The 'Balley Ho' had struck the reef and was taking on water. Bermuda Radio commenced Mayday Relay broadcasts requesting urgent assistance and also tasked the marine police to attend."
"A marine police unit promptly arrived on scene to assist. A number of local boats had also responded to the call and all persons onboard the 'Balley Ho' were safely rescued."
"The incident highlights a number of safety related issues as the vessel did not have enough lifejackets for all persons onboard. In addition a VHF radio was not readily available for use which helps establish a boats exact location."
"Bermuda radio would like to remind all boat users of the importance of having the correct safety and radio equipment onboard."
According to data from the Bermuda Weather Service, it was high tide when the boat ran aground.
Update 5:30pm: The boat was removed at approximately 5pm this afternoon through the use of a barge and a crane, photos below courtesy of John Manderson: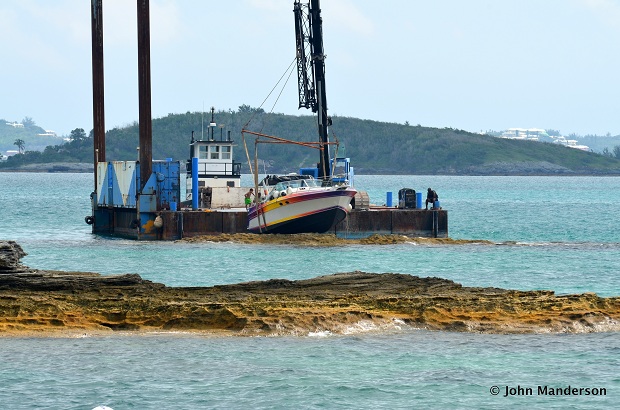 While at the removal, we spoke with someone close to the situation who said they had rescued a jet ski and were taking in into Spanish Point. Upon leaving, they cut to the wrong side of the pole, which they said was unlit.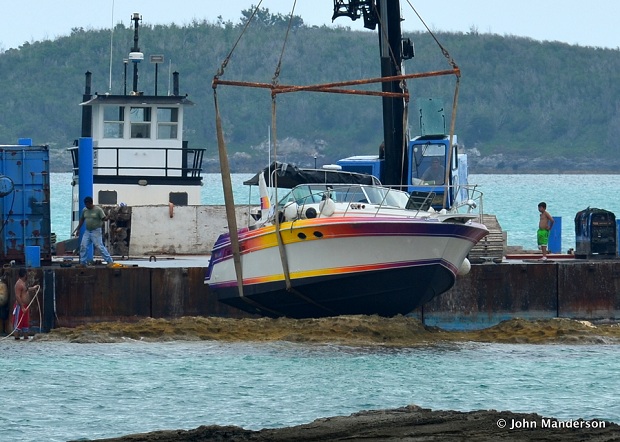 The boat had just been put overboard yesterday, and contrary to the official statement this person said the vessel had more than enough lifejackets on board. He also expressed how difficult it was to see that cut in the dark, and that the maps and GPS were not sufficient to warn them of their route.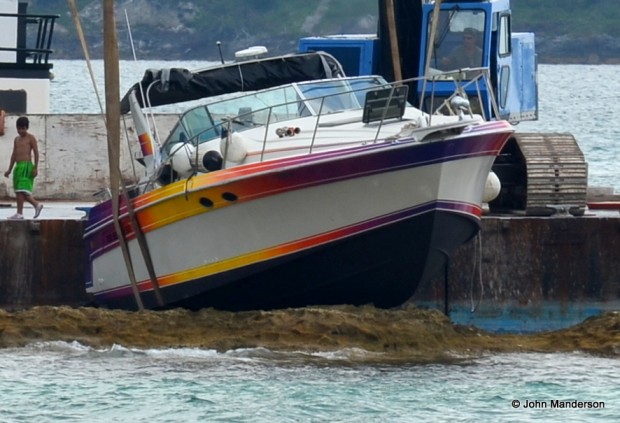 Read More About