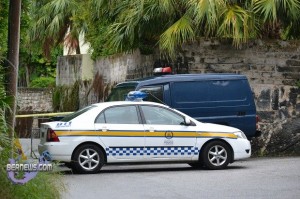 Three days after the discovery of a deceased teenager on Parsons Lane in Devonshire, police continue to remain on scene, restricting access to the road.
At approximately 9am on Saturday 6 August, the body of 19-year-old Jahmeiko Perkins was discovered by a passing female motorcyclist just west of the Pure Water facility on Parsons Lane.
Police roadblocks have remained at both sides of the road for three days since then, with officers still on guard this morning [Aug.9]
The police said the exact cause of death is not yet known, and officers from the Serious Crime Unit are investigating the circumstances of his death, which is "being treated as suspicious."
The issued a statement, part of which said, "Anyone who may have seen Mr. Perkins, or who has information concerning how he may have died is urged to make contact with the Serious Crime Unit on 29-50011 or the confidential Crime stoppers hotline on 800-8477."
When asked police declined to give specifics of why they have restricted access to the road for this length of time, however police are expected to give an update on their investigation in the death of Mr Perkins later today.
Update 4:20pm: Providing an update on their investigation, Detective Chief Inspector Nicholas Pedro, Officer In Charge of the Serious Crime Unit, said: "It is the findings of the Forensic Pathologist that Mr. Perkins injuries are consistent with a road traffic collision, and not circumstances that led him to find that this was a murder.
In relation to the roadblock he said, "Additionally, the scene was preserved by Officers since the discovery of Mr. Perkins through to today in order to ensure that the best evidence was obtained. Police Officers have maintained a physical presence at this location throughout." The road was opened today.
Read More About
Category: All