Bermuda Motors has partnered with T. N. Tatem Middle School to launch a day release programme aimed at providing students with work experience in the auto industry.
Under the scheme, three students will spend one day a week throughout the school year working hands-on alongside qualified professionals in the company's body and paint shop, mechanical shop and cycle repair department.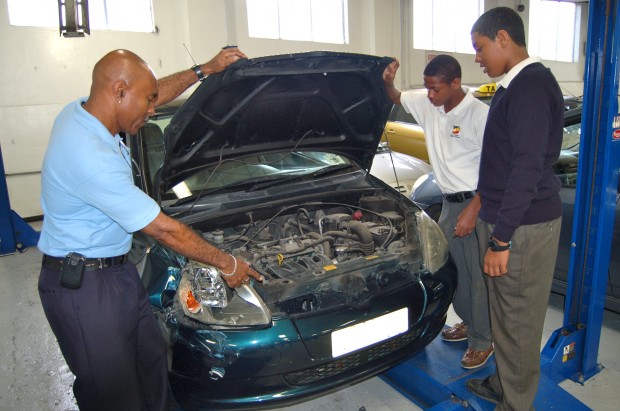 Darwin Symonds, manager of Bermuda Motors' Body and Paint Shop, said he hopes the programme will encourage young Bermudians to enter the trade.
Mr. Symonds, a former day release student himself in the 1970s, said: "We've seen a steady decline over the years in the number of young Bermudians interested in learning the trade. We've got to try and get them interested at an early age so this programme will give them a real taste. If they like it and want to pursue it as a career, then Bermuda Motors can take them all the way through from apprentices to qualified professionals."
Jeanna Outerbridge, Learning Support, Functional Skills teacher at T. N. Tatem, said the programme will provide a valuable opportunity for students to get hands-on industry experience. "My focus is on life skills, including careers, for students who want to focus on technical subjects," she said. "
Some of our students had expressed an interest in auto mechanics so we contacted Bermuda Motors. They had an interest and we had the need, so it is a good match."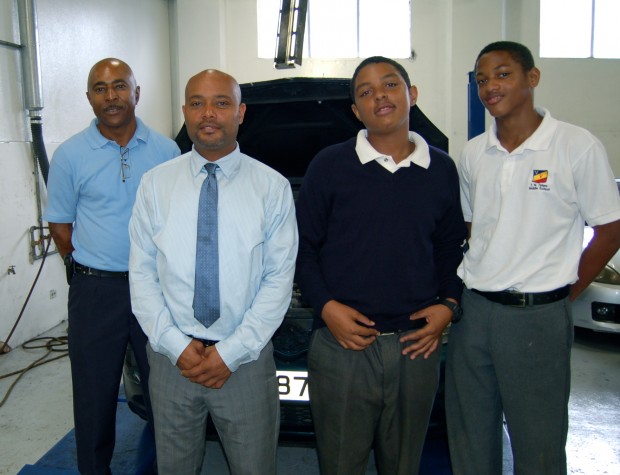 Javon Darrell (13), Jaja DeSilva (14) and Maurice Jones (13) will start their programme on November 21. Mr. DeSilva said he was looking forward to the experience. "I like working on bikes and fixing things and I wanted to see what it is like doing it as a job."
Michael Butler, General Manager of Bermuda Motors, said: "We are effectively trying to resurrect the day-release programmes through which so many Bermudians learnt their trade in the past. They enable individuals to see first-hand what the industry offers and ascertain if it would be something they would be interested in in the future.
"If we can get Bermudians interested young enough, then we can support them all the way through their professional education. If this is successful, we'd like to extend it to other schools and it would be great to see similar opportunities provided in other trades."
Read More About