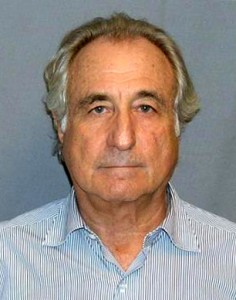 Judge Richard M. Berman of the US District Court for the Southern District of New York yesterday [Nov.29] dismissed claims brought against PricewaterhouseCoopers Bermuda and others by investors who put money into funds subsequently invested with fraudster Bernard L. Madoff  [pictured].
Plaintiffs had sued PwC Bermuda and more than 60 other defendants in connection with losses they suffered as the result of Madoff's infamous Ponzi scheme.
Concluding that the case did not belong in a US court, Judge Berman dismissed the claims against most of the defendants on the basis of the doctrine of forum non conveniens.
Hogan Lovells law firm attorneys Dennis H. Tracey, III, Sandy Litvack and Lisa Fried handled the case for PwC Bermuda. In September 2011, Hogan Lovells also secured a separate victory for the Bermuda branch of the gobal financial and professional services firm in a case before the Eleventh Circuit Court of Appeals, which affirmed a lower court's 2010 decision dismissing a feeder fund action brought against PwC Bermuda and other defendants.
The district court in that case had found that it lacked jurisdiction over PwC Bermuda and certain other defendants and dismissed the action on the basis of the doctrine of forum non conveniens.
Read More About