[Updated - driver arrested] Following an accident which damaged a utility pole at approximately 11am today [Feb.22], 281 customers were without power for a while longer. BELCO started restoring power a short while later, and 34 homes remain without electricity.
A BELCO spokesperson said, "Following the accident and ensuing outage at 11:02 am near Crow Lane, BELCO has closed off a section of Harbour Road, as repairs are made. Harbour Road is closed between the Roundabout and Lovers Lane. Repairs are expected to take 4-6 hours."
"34 customers on Harbour Road will be without power until repairs are complete. Initially, 281 customers were without power, but were restored in sections, along the circuit, starting at 11:29 am."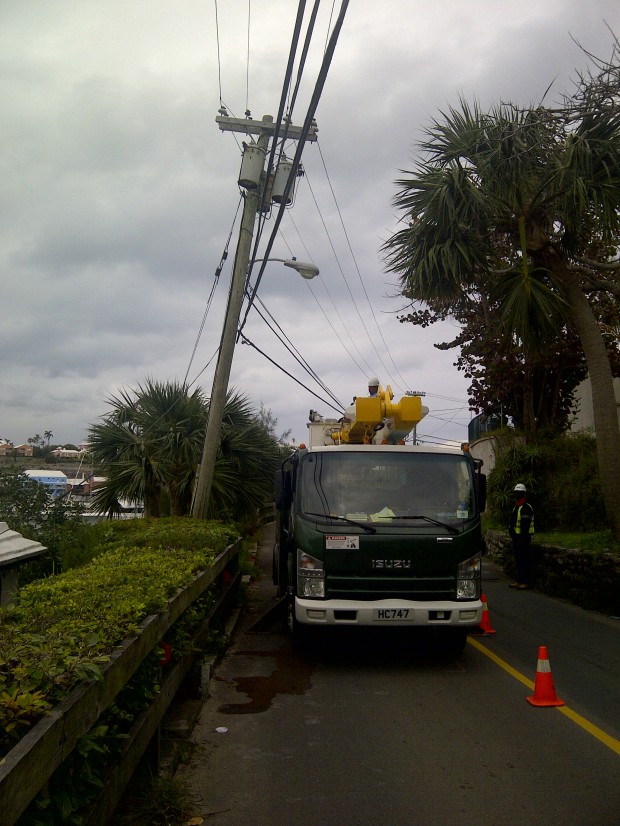 Update 4.16pm: A police spokesperson said, "Around 11am on Wednesday February 22nd, a single vehicle damage only collision occurred on Harbour Road in Paget near the junction with Lovers Lane. Details about how the collision occurred are unclear at this time, however it appears that a car was travelling along Harbour Road when it collided with a utility pole.
"There have been no reported injuries as a result. BELCO personnel are currently at the scene to repair or replace the damaged utility pole.
"Traffic diversions are in place until further notice. Motorists travelling out of the City of Hamilton heading west are advised to take Trimingham Hill, while motorists travelling into the City along Harbour Road will be diverted onto Lovers Lane. The public's cooperation is appreciated and an update will be given when normal traffic flow can resume along Harbour Road.
Update 9.02pm: A police spokesperson said, "A 44 year old St. George's man has been arrested after reportedly leaving the scene of a single vehicle collision that occurred around 11am on Wednesday February 22nd along Harbour Road in Paget near the junction with Lovers Lane.
"Both the car involved and the utility pole were damaged; however, the driver was not injured. BELCO personnel have rectified the damaged pole and Harbour Road has since been reopened to normal traffic flow. Inquiries into this matter are ongoing."
Update Feb 23: BELCO removed and replaced the pole, and transferred cables and equipment to the new pole by 2:58am this morning.
Read More About
Category: Accidents and fires, All, News