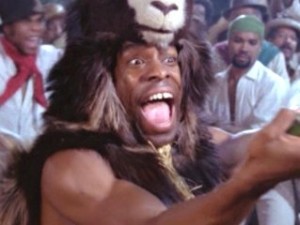 Acclaimed Bermudian actor and dancer Michael Ebbin [pictured] had a licence to kill along with secret agent James Bond in a 1970s 007 movie.
In the 1973 Bond thriller "Live And Let Die", Mr. Ebbin played Dambala, one of the chief henchman of villain Dr. Kanaga [Yaphet Kotto].
Dambala is a voodoo priest of sorts who first appears during the pre-credits sequence,  killing a British agent named Baines with a venomous snake during an occult ritual on the fictitious Caribbean island of San Monique. In fact, the ritual murder carried out by Mr. Ebbin's character introduced Paul McCartney's Oscar-nominated title song for the film.  The Dambala character later shows up when Bond comes to the island and is shot by 007 during the secret agent's attempts to find the entrance to Kananga's lair.
Mr. Ebbin, who shot his scenes at the Pinewood Studios outside London, was a highly-respected featured performer in many local dance revues.
Born in Bermuda in 1945, he also appeared in a number of major theatrical productions in New York in the 1960s and '70s.
After a long stint working abroad, he later returned to Bermuda but died at a relatively young age in the 1990s.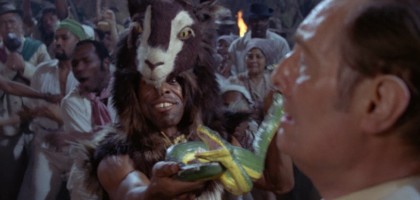 Mr. Ebbin became the second Bermudian actor to play a major role in a James Bond film.
In the 1965 blockbuster "Thunderball", legendary Bermudian performer Earl Cameron was cast alongside Sean Connery's 007 as Pinder, head of the British Intelligence Secret Service's Bahamian station.
"Live and Let Die" was the eighth spy film in the James Bond series, and the first to star Roger Moore as the fictional MI6 agent James Bond.
The film is adapted from the 1954 novel of the same name by Bond creator Ian Fleming.
In the film version, a Harlem drug lord known as Mr. Big plans to distribute two tons of heroin free to put rival New York  drug barons out of business.
Michael Ebbin's Dambala menaces Jane Seymour's Solitaire character in "Live And Let Die"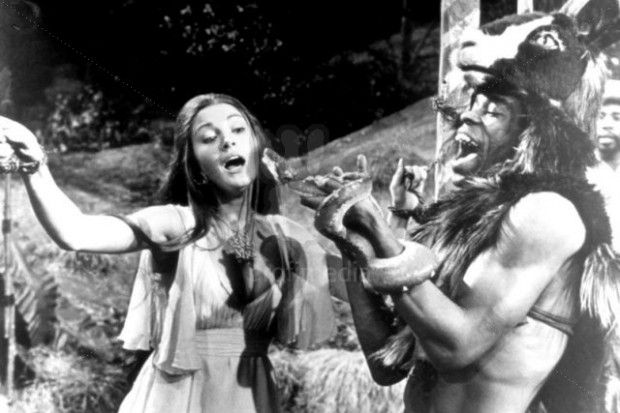 Mr. Big, however, is revealed to be the disguised alter ego of Dr. Kananga, a corrupt Caribbean dictator, who rules San Monique, the fictional island where the heroin poppies are secretly farmed.
Bond is investigating the death of three British agents, leading him to Kananga, where he is soon trapped in a world of gangsters and voodoo as he fights to put a stop to the drug baron's scheme.
"Live And Let Die" also features Jane Seymour as Bond's love interest Solitaire, Julius Harris as Kananga's primary henchman Tee Hee Johnson and actor/dancer/choreographer Geoffrey Holder as the enigmatic Baron Samedi.
The movie was released at the height of cinema's blaxploitation era, typified by gritty urban action films like the Academy Award-winning "Shaft" [1971].
Many blaxploitation plot elements and clichés are featured in the 007 film, including Afro hairstyles, black gangsters and "pimpmobiles".
Michael Ebbin is glimpsed here in the pre-credits sequence of "Live And Let Die"
It departs from the former plots of the James Bond films about megalomaniac super-villains, and instead focuses on drug trafficking, depicted primarily in early '70s blaxploitation films.
It is set in African-American cultural centres such as Harlem and New Orleans, as well as the Caribbean islands.
"Live And Let Die" was also the first James Bond film featuring an African-American Bond girl to be romantically involved with 007, Rosie Carver, who was played by Gloria Hendry.
While searching for locations in Jamaica, the film's crew discovered a crocodile farm owned by Ross Kananga, after passing a sign warning that "trespassers will be eaten."
The farm was put into the script and also inspired "Live And Let Die screenwriter" Tom Mankiewicz to name the film's villain after Mr. Kananga.
"Live And Let Die" trailer
Read More About
Category: All, Entertainment, Films/Movies, History