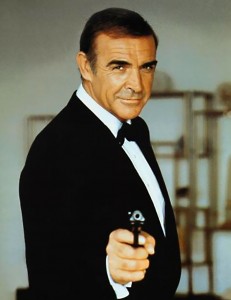 Largely set in and around Bermuda, the rogue James Bond project "Warhead" has been hailed as one of Hollywood's great unfilmed scripts – so good it tempted a retired Sean Connery [pictured] to re-holster his Walther PPK and return as 007 for one final mission.
But what amounted to a protracted Spy Versus Spy legal battle between maverick producer Kevin McClory and Eon Productions — which controlled the official James Bond movie franchise – prevented a film featuring the Bermuda Triangle, robotic sharks armed with nuclear bombs, a helicopter attack on the Statue of Liberty and 007 making love to the strains of "Rule Britannia" from ever going before the cameras.
The Bond film which could have delivered all this — and Sean Connery, too — was to be a loose remake of the 1965 blockbuster "Thunderball" which had co-starred Bermudian actor Earl Cameron.
In 1959 007 author Ian Fleming, along with independent producer Kevin McClory and screenwriter Jack Whittingham, had worked together on a script for a potential Bond film to be called "Longitude 78 West"; the project was subsequently abandoned because of the costs involved.
Fleming, "always reluctant to let a good idea lie idle", used the material as the basis of his novel "Thunderball" which did not credit either McClory or Whittingham; McClory then took Fleming to the High Court in London in 1963 for breach of copyright.
After nine days, the case was settled in McClory's favour. Fleming agreed to pay McClory damages of £35,000 and his court costs of £52,000, and future versions of the novel were credited as "based on a screen treatment by Kevin McClory, Jack Whittingham, and Ian Fleming" – in that order. Fleming also conveyed to McClory the worldwide film rights to the novel "Thunderball".
After Eon Productions started making the Bond film series beginning with "Dr. No" in 1962, they subsequently made a deal with McClory to produce "Thunderball" under their auspices. The Irish-born filmakker also undertook not to make any further versions of the novel for a period of ten years following the release of the Eon-produced film in 1965.
"Thunderball" theatrical trailer
In the mid-1970s, with the pending expiration of that agreement with Eon, McClory began working on a project to bring a  new "Thunderball" adaptation to the screen. He approached espionage writer Len Deighton to work on a script known variously as "James Bond Of The Secret Service," "Warhead 8″ and, finally, "Warhead.".
Taking "Thunderball's" plot as its point of departure — the hijacking of a NATO bomber and the subsequent theft of its atomic payload by a criminal genius — Mr. Deighton's new storyline would have made for a particularly elaborate fantasy adventure.
Described by some commentators as "Star Wars underwater", the film would have featured the return of principal 007 adversary Ernst Stavro Blofeld — who McClory also owned the rights to — operating from a vast underwater base off Bermuda.
It turns out Blofeld and his criminal organisation SPECTRE [Special Executive for Counter-Intelligence, Terrorism, Revenge & Extortion] are responsible for the disappearances of military aircraft and ships in the Bermuda Triangle as they attempt to build up an illicit arsenal of atomic weapons.
James Bond is dispatched to Bermuda — the original setting had been the Bahamas in both the novel and film versions of "Thunderball" — to investigate the fates of the missing aircraft and ships and their deadly cargoes [Bahamas resident McClory conducted some of his legal and business activities through Bermuda; he entered into preliminary discussions with the Tourism Department to secure their cooperation for location shooting on the island while the script was still being written. Although early drafts of the screenplay indicate the action takes place in the Bahamas, McClory believed the film would benefit from a change of location given both "Warhead's" Bermuda Triangle-related theme and the fact it was a remake of a movie which had only been in theatres a decade earlier].
Between romancing Bond Girls with such exotic names as Justine Lovesit and Fatima Blush in Bermuda, 007 uncovers a monstrous SPECTRE plot to control the economic and political decisions of the world through nuclear blackmail involving the purloined atomic bombs.
If the United Nations doesn't hold a meeting to discuss how to go along with Blofeld's New Order, a major city will be nuked. If the UN still doesn't comply after that, SPECTRE will detonate two warheads under the Antarctic ice caps, flooding half the world's cities and drowning most of the world's population.
The city targeted in the first part of Blofeld's threat is New York and from a base in the Statue of Liberty, SPECTRE sets out to detonate a warhead beneath the New York Stock Exchange. The method of delivery: robot sharks. The warhead is placed in a robot hammerhead, which is sent into the sewer system with robot tiger sharks as bodyguard escorts.
Concept art for "Warhead" showing the robot sharks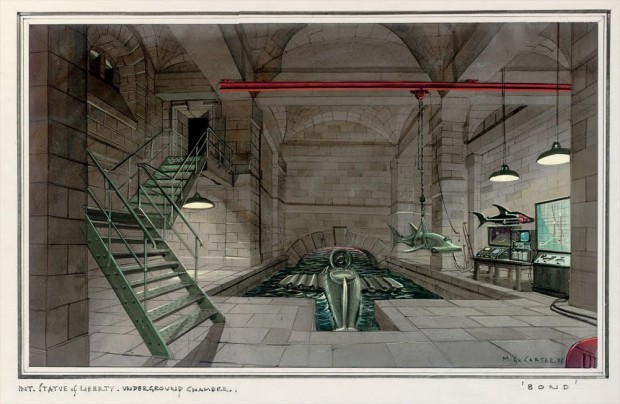 An essay on "Warhead" posted at the website TotalFilm recounts how McClory then scored his biggest coup — luring Sean Connery back to the signature role he had walked away from after 1971′s "Diamonds Are Forever": "Ecstatic over the industry reaction – mega agent Irving 'Swifty' Lazar proclaimed it one of the most exciting [scripts] he'd ever read – McClory announced shooting would begin in February 1977; Paramount would back it to the tune of $22 million. Rumours circulated that Orson Welles was to play arch-villain Blofeld and Richard Attenborough was to direct.
"But who'd play Bond? Paramount had millions at stake and would settle for nothing less than Connery. Amazingly, after much introspection, the actor agreed, musing, 'There was a certain amount of curiosity in me about the role, having been away from it so long'. It seemed he had protested too much – apparently he missed the old boy.
"Naturally, his decision made headlines. McClory added to the hype, equating the Scot's comeback to, 'Muhammad Ali, when he's at his most fit, when someone else is champion of the world, throwing his hat into the ring'."
But ongoing legal disputes with Eon led to both Paramount and Connery withdrawing from the project in 1978 and "Warhead" was never made. In 1983 McClory secured independent financing — and Connery's services — for a "Thunderball" remake titled "Never Say Never Again" which owed little to the "Warhead" screenplay [the entire Bermuda Triangle sub-plot was dropped in the new script and the original Bahamian setting was restored]. Although Connery's final bow as 007 was a critical and box office success, the film didn't lead to the separate Bond film franchise McClory longed to establish.
After attempting to revive an independent 007 series with another reworking of "Warhead" in the late 1990s with either Timothy Dalton or Liam Neeson slated to play Bond, McClory found himself tied down in further legal wrangles with Eon. A series of court decisions determined that legally McClory was entitled to make films featuring Blofeld and SPECTRE, but he didn't have the right to use James Bond as the hero unless the plots were specifically based on "Thunderball". No Hollywood studio wanted to back a rival 007 series with such limited story potential and when McClory died in 2006 his dream of a second Bond franchise went to the grave with him.
"Never Say Never Again" theatrical trailer
Read More About
Category: All, Entertainment, Films/Movies, History