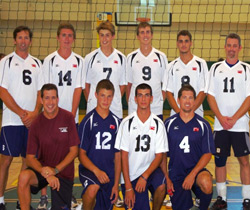 Bermuda is participating in the Qualifying Tournaments for the World Volleyball Championships to be held in 2014. The next event is the Men's Group D World Championship Qualifier starting on August 31st in French St. Martin.
During that event the Bermuda Men's Team will be facing off against Antigua, Anguilla, French St. Martin and Dutch St. Marteen.
Head Coach Bill Bucci said, "The Men's team is training twice a week at Berkeley Institute under the watchful eye of Alex Hunter the team's assistant coach. The team is a mix of veteran and junior national players. Our goal for this tournament is to mix the men's team with the junior team having the veteran players mentor the junior players.
"Our junior players consist of Tiago Ferriera, Kieran Hamilton and Brandon Sousa. This tournament will be the highest level that they will have seen and participated in. It's the role of our veteran plays Jon Gazzard, Mark Hamilton and Gary LeBlanc, including Brian Amaro and Ian Bucci, to help the junior players progress, understand and enjoy, what can be a stressful and exciting situation.
"This will be our first attempt on the men's side to amalgamate players from both teams. We expect this to be a learning experience for all players helping to strengthen all of the BVA's volleyball programs."
Read More About