[Updated] Tributes have poured in for Major Chris Wheddon, who was killed in a traffic accident yesterday [Sept 9] in the UK. Major Wheddon was in the UK conducting training, and was on his way to his next assignment when the collision occurred.
Major Wheddon, 43, served as a police officer before joining the Regiment in 1987, where he rose to the rank of Major and served as the Adjutant of the Regiment in 2004-2008 and ADC to the Governor from 2008 – 2011.
During his service, Major Wheddon attended numerous specialist military training courses, to name a few: Platoon Commanders Battle Course, Intelligence Training, Canadian Militia and Staff course and Ceremonial Guns Officer. Major Wheddon had recently completed Advance Command and Staff College Course at the Joint Military Staff College in Shrivenham, UK.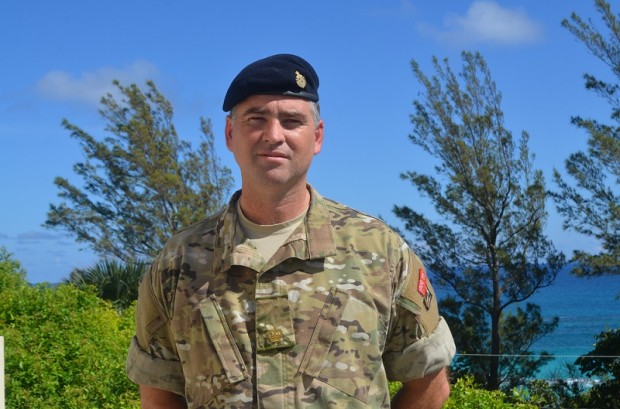 In confirming his death this morning, Bermuda Regiment Commanding Officer Lieutenant Colonel Brian Gonsalves, said: "Maj Wheddon was a kind, honest and decent person. I consider myself lucky to have had the good fortune to have known him and be able to call him a friend."
Minister of National Security Wayne Perinchief said: "Like so many others in the community this tragedy is difficult for me to comprehend. Major Wheddon was a 'soldier's soldier; and a highly valued officer in the Bermuda Regiment.
"The Ministry was proud to support his latest efforts overseas and to the very end he made Bermuda proud through his service. Our thoughts and prayers extend to his entire family and especially his young daughter," concluded Minister Perinchief.
His brother Major Julian Wheddon said: "Chris absolutely adored the military and was a consummate professional. He worked tirelessly to achieve the highest standards and always put a great deal of thought into what he was doing.
"He was fair to the soldiers and always had time for anyone who came to see him. He perfectly blended a keen sense of military duty, keen work ethic, but always remained easy going. It was a fantastic privilege to be able to serve with my brother."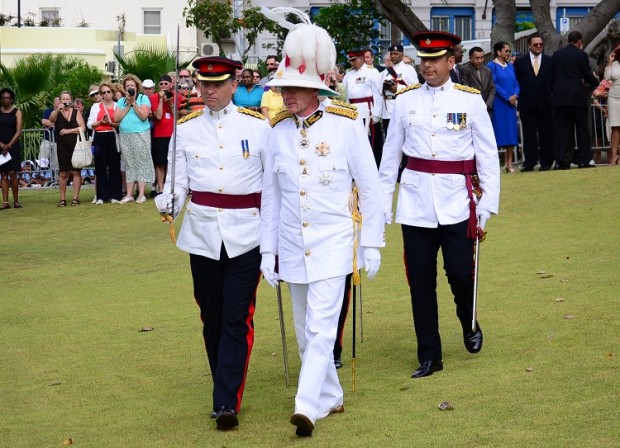 Governor George Fergusson said: "I am shocked and very much saddened by this awful news. I only met Chris Wheddon two or three times. But he struck me immediately as a very nice man and I was looking forward to working with him in the future.
"Besides being a committed member of the Bermuda Regiment, he had also been a valued and much liked member of the Government House team as ADC until last year.
"My predecessor, Sir Richard Gozney, has contacted me to express his and Lady Gozney's horror at this event and his high regard for Major Wheddon. The whole Government House team feels this loss. I send my support and prayers particularly to his family and his very wide circle of friends," said the Governor.
Captain Ben Beasley, Adjutant of the Regiment said: "Chris was a superb officer; selfless, dedicated, and noble; it was my privilege to have known him for many years. As he is a former Adjutant I spent a great deal of time with him asking for guidance on Regimental matters – he was a fountain of military information, and would always spend time with anyone who needed to see him.
"He was affable with an unwavering sense of duty. The Regiment and the Island have benefitted because of his service and he has set a high standard for others to follow. His loss has been felt by all those who he worked with and it is our responsibility to pay our respects by maintaining the standards he set."
Defence Board Chairman Major Wendell Hollis said: "As Chairman of the Defence Board and the Promotions Board, I extend my deepest condolences and sympathy on behalf of the Members of both Boards to the family of Major Wheddon.
"Major Wheddon was a leading member of the command structure of the Bermuda Regiment with a very bright future. The reports from his postings in the UK were outstanding. His tragic and untimely passing has come as a great shock to both Boards and leaves us with a deep feeling of sadness.
"Our thoughts and prayers are with Major Wheddon's family at this time of great loss," said Mr Hollis.
Sergeant JJ Hayward of the Bermuda Regiment said: "Major Wheddon was my first full time Commander and over the years I always looked to him for knowledge and guidance. It wasn't just military knowledge, it was everyday advice.
"He was firm but fair and always willing to give guidance and support when I needed it. I was greatly looking forward to the next time when I could serve under him. He will be greatly missed by all the soldiers who served with him."
Former Commanding Officer and Honorary Colonel Eugene Raynor said: "It is devastating to hear of the passing of Major Chris Wheddon. It is a tragedy all round: Chris' family loses a son, brother and father.
"The Bermuda Regiment loses a dedicated and capable officer, a willing servant to the community, a brother at Arms. We all lose a friend. My deepest sympathy and prayers to his family on behalf of all current and past members of the Bermuda Regiment."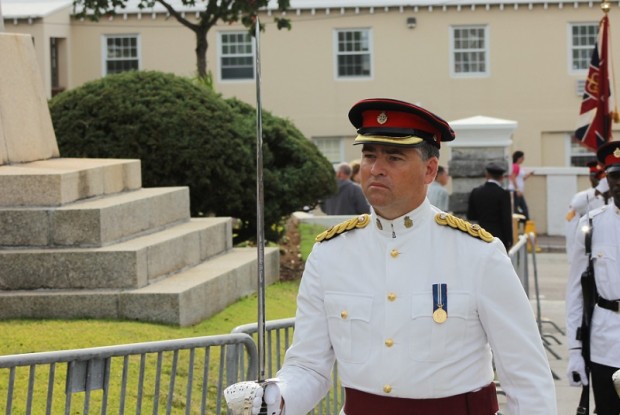 Former Regiment Commanding Officer Lt/Col Edward Lamb said: "It was with great shock and sadness that I received the news of Major Wheddon's tragic passing. Mere words seem completely inadequate to fully express the magnitude of such a tragedy as losing such a wonderful man as Chris so suddenly, and entirely too soon.
"Chris and I spent many years together as officers in the Bermuda Regiment. In fact, Chris was my Adjutant when I was the Commanding Officer, during which time he and I worked very closely together, on a daily basis.
"Chris was both a dedicated officer and a good man, with a healthy love for life. He was very committed to me in particular as my Adjutant, and to The Bermuda Regiment in general throughout his career," continued Lt/Col Lambe.
"He was full of vigour and had a very pleasant, respectful and affable personality. I am fortunate to have had the pleasure of enjoying a close professional and personal relationship with Chris during our time together in the Bermuda Regiment, and thereafter.
"It is thus with the greatest sense of sorrow and astonishment that I bear the news of his passing. My prayers and thoughts immediately turn to his family, especially his little angel Catherine, whose arrival on this Earth a few years ago was a magnificent and joyous moment for him."
"Major Wheddon had so much life left in him, with so much more to offer this world. I am therefore, minded of the following quote from Grant M Bright: Most of us die with much of our beautiful music still in us, un-sung and un-played."
Commissioner of Police Michael DeSilva said: "On behalf of my senior colleagues and all officers and staff of the Bermuda Police Service, I offer my sincere condolences to the family and friends of Major Chris Wheddon. Major Wheddon joined the Bermuda Police Service in February 1997 and was promoted to the rank of Sergeant in 2003.
"He served a portion of his career in our Information and Management Services (IMS) department, working on computer systems. He ended his service as a police officer in March 2005 and joined the Bermuda Regiment on a full time basis.
"His duties in the Regiment kept Major Wheddon connected with the Bermuda Police Service and he made as many friends in our ranks after he left as he did while he served with us. He is very fondly remembered as a professional, genuine and kind man. This is indeed a most heartbreaking and premature loss. His family have our thoughts and prayers that comfort may find them during this sad time."
MP Kim Swan said: "Cindy and I are shocked and deeply saddened to learn of the tragic death of Major Chris Wheddon.
"We came in contact with Major Wheddon on numerous occasions through official functions at Government House and around Bermuda, during his tenure as Aide de Camp (ADC) to Governor Sir Richard Gozney, where from our vantage point he was a great example of an ADC.
"My wife fondly recalled how helpful Major Wheddon was to her in the preparations for the Project Action Queens Jubilee Fund-raiser where the Governor was the Honorary Patron.We offer our prayers to his Family, Government House, The Bermuda Regiment and to his friends."
Leader of the Opposition Craig Cannonier said: "I would like to add my voice to the chorus of regret at the sad and untimely passing of Major Chris Wheddon of the Bermuda Regiment.
"He was obviously destined for great things in the Regiment. His death has not only robbed his family of a much-loved son, brother, husband and father, it has robbed Bermuda of someone who was likely to make a substantial contribution to the wellbeing of the community.
"Hopefully, the fine example he set as an officer will be followed by those who are to walk in his footsteps.
"I would like on behalf of the One Bermuda Alliance to extend my deepest sympathy to Major Wheddon's family, to his friends and to his colleagues in the Bermuda Regiment."
Read More About
Category: All