Bermuda CableVision this morning awarded John Drew, Chairman of Crime Stoppers Bermuda, with its latest Community Service Award in recognition of his volunteer work for the charity.
Mr. Drew has played an integral role within the organisation since its inception on the island in 1995. As part of the award, Crime Stoppers Bermuda received a $1,000 donation from Bermuda CableVision, which will be used to support the charity's awareness campaign.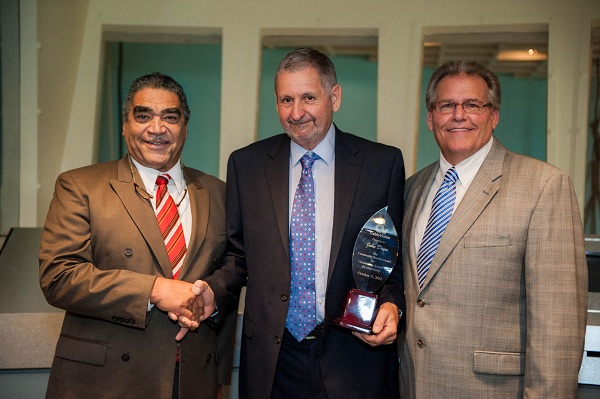 Crime Stoppers Bermuda enables anyone to anonymously report details of criminal activity by calling its 24/7 hotline 800-TIPS (8477) or visiting www.crimestoppers.bm to submit an online tip, which can include photographic evidence.
Mr. Drew is currently in the final stages of developing a programme with senior correctional facility staff to introduce the Crime Stoppers phone service within the Westgate Correctional Facility. It would allow inmates to confidentially provide any information they have regarding any crime or potential crime that they maybe aware of. The introduction of Crime Stoppers within prisons in the U.K., U.S.A., and around the world has already proven very successful.
Mr. Drew was presented with the award at a ceremony held at the Bermuda Underwater Exploration Institute. The event was attended by Minister of National Security  Wayne Perinchief. Also in attendance were Bermuda CableVision's senior management team, along with Mr. Drew's family and friends.
Mr. Drew comments: "I got involved with Crime Stoppers as I felt that on an island of this size a confidential means of reporting crime was vital. In a small community people are going to be fearful of talking to the police and being identified as an informant or witness as the repercussions can be serious.
"My wife and her mother were the victims of a violent crime in Hamilton in 1985, in which my wife was shot in the face, leading to her mother suffering a heart attack at the scene. Experiencing such a harrowing crime against my family also inspired me to support Crime Stoppers.
"The capture of the perpetrator could have been achieved if witnesses would have felt they could speak up without worrying about what might happen to them or their family as a result. Over the years I have seen many examples of the effectiveness of Crime Stoppers in helping to solve major crimes and it is incredibly satisfying, particularly in the case of violent incidents, to be supporting the police service in getting results."
Minister  Perinchief said: "I know personally of the time commitment and hard work that John has put in to making Crime Stoppers the success it is on the island. From the start, he has been the driving force in the ultimate mission to make Crime Stoppers a household name and trusted partner to all Bermuda residents.
"The charity is a hugely important resource. It not only helps to solve crime and ensure that offenders receive the punishment they deserve, but also Crime Stoppers Bermuda serves as a deterrent as would-be criminals recognise its power of detection and have second thoughts."
Terry Roberson, General Manager of Bermuda CableVision, comments: "Bermuda CableVision has funded Crime Stoppers awareness campaigns so I have first-hand experience of John's dedication to the cause, which goes beyond limitation. When he is not appealing for private and corporate donation to fund advertising, he is on the radio and television, attending events and talking to people in the streets to spread the word with his own voice. For that reason he is truly deserving of the praise and recognition he is receiving today."
Raising awareness on how to provide tips is the focus of Mr. Drew's work at Crime Stoppers as he sees a direct correlation between the amount of promotional work carried out and the volume of leads generated at any time. The charity, which has no office or staffing overheads, also fundraises to finance its call facility in Miami, its web management services provided out of Texas, as well as substantial cash rewards for tips that have amounted to almost $64,000 since the charity was founded in Bermuda.
To date, Crime Stoppers Bermuda has received over 3,600 tips resulting in more than 300 arrests. It is responsible for recovering in excess of $1.6 million worth of property and seizing more than $22 million worth of drugs.
Read More About