[Updated: BWS confirms it was a tornado]
Unofficial reports coming in suggest that what appeared to be a tornado hit the Somerset Village area this morning [Oct 28] at approximately 9.15am. There are reports of damage in the area, with the photos being sent in showing damaged vehicles, walls, and more.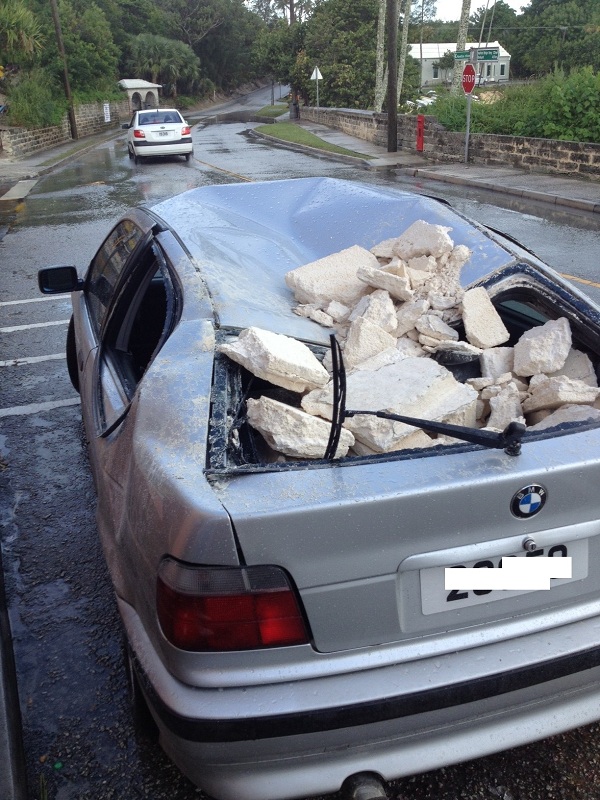 Bermuda is presently under a Tropical Storm Warning, and the Bermuda Weather Service has stated that winds will increase to tropical storm force later today through Monday. We have asked the BWS about the reports of tornados — which are not yet confirmed — and will update as able.
Update 11.51am: At least two buildings sustained damage, reports suggest boats may have been affected and area residents told Bernews one person in a car had a "close call".
Speaking with eye witnesses, they report seeing what looked like a water spout in the Cavello Bay area in Somerset. It travelled north and touched down near Alfred Lodge. Part of the roof of Alfred Lodge was torn of and the tornado continued across the road and into the water flipping over two boats and a diving raft before it dissipated.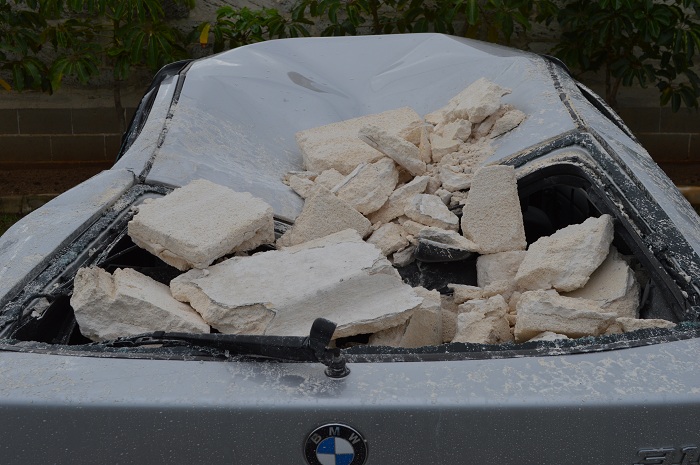 Part of the roof of Alfred Lodge was thrown onto the roof of a BMW parked across the road from the lodge and the glass of the main entrance door of the Sandys Boat Club was damaged.
BWS meterologist Kimberley Zuill said: "BWS cannot confirm or deny that the destruction was caused by a tornado until we have fully investigated the data and analyze the destruction pattern for evidence of rotation. Straight line, strong wind events like microbursts and strong squalls from intense showers or thunderstorms also can create the same level of isolated damage.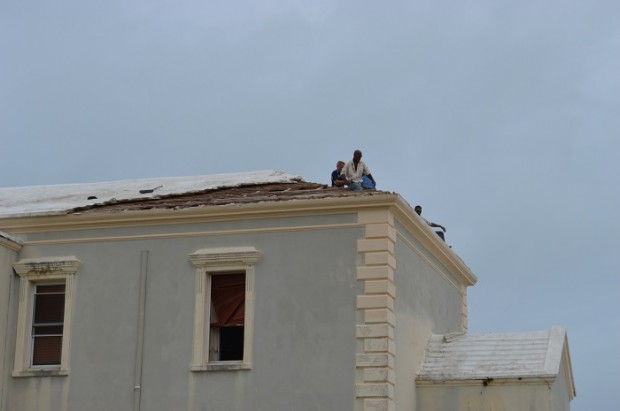 "What I can say is that around 8:30am Bermuda Weather Service Radar picked up an moderate shower off of Southampton/Somerset that for a moment could have reached thunderstorm and one image shows an extremely small hook echo that lasted for 10 min.
"It passed over the Mangrove Bay area. Bermuda is under tropical storm warning. Bermuda will be experiencing the effects of the outer bands of Sandy for the next 24 hours or so. These outer bands are very unstable, lending to the nature of tropical systems, have increased winds and heavy showers with the potential for thunderstorms at times.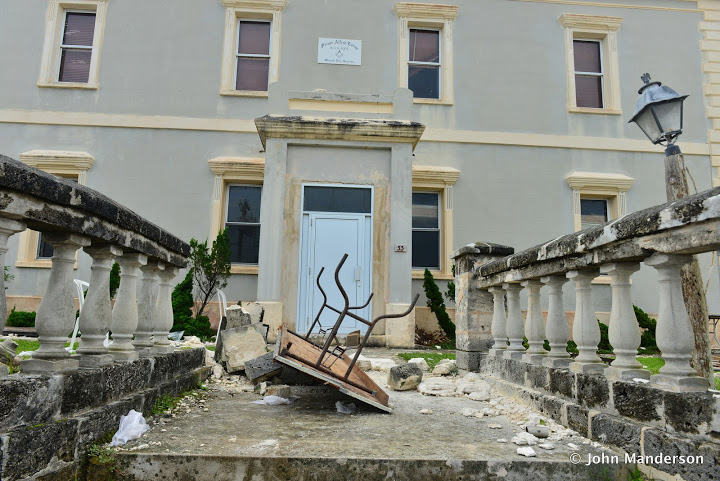 "Winds will continue to increase becoming tropical storm force this afternoon; southerly 25 to 35 knots gusts to 50 knots, increasing south-southwesterly 30 to 35 knots with gusts 55 knots overnight. Expect these unstable conditions to continue until we drop the tropical storm warning."
Update 6.27pm: Meteorologist Kimberley Zuill said: "The BWS can now confirm that the damage in Mangrove Bay area this morning was a minimal/shallow, short lived tornado.
"There was a tiny hook echo on our Doppler weather radar at 8:33am prior to a heavy shower moving from the southwest and crossing the west end through Somerset; rotation evidenced in a video that was supplied to us and the damage showed indications of a rotating wind field.
"This tornado was very small in diameter, causing damage to one known building and surrounding area associated with the building. All of this evidence combined leads to the conclusion that it was a minimal/shallow, short lived tornado, probably barely an F1 on the Fujita scale which existed for about 15 min."
Photos courtesy of IrieFM, K Smith and more… click to enlarge:
Read More About
Category: All, Most Popular, News, Photos