Public Safety Minister Michael Dunkley held a press conference today [Feb 21] to highlight the Prison Farm's 'Giving Back to the Community Program,' which involves inmates providing manpower for the completion of general labour.
Minister Dunkley said, "We are here today to highlight the significant contribution the Bermuda Department of Corrections has made to the local community.
"By carrying out various community projects in schools – including the Opportunity Workshop, charitable organizations, and other government departments, the Prison Farm Facility's 'Giving Back to the Community Program' has provided numerous public and private organizations additional manpower for the completion of general labour.
Pictured below: Minister Dunkley [centre], Officer Arthur West, Acting Chief Officer Reginald Gomes, Commissioner of Corrections Lt. Col. Edward Lamb, Keeona Balboda Opportunity Workshop administrator, Acting Principal Officer Sandra Gomes and Officer Shannon DeRoza.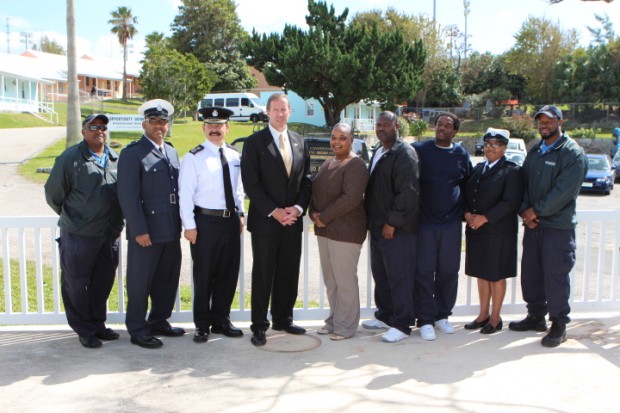 "In 2012, this program oversaw a total of nineteen projects completed by the Prison Farm inmates. Projects completed include Fort St. Catherine Beach cleanup; Cup Match ground preparation and clean up at Somerset Cricket Club; painting and refurbishing at the Bermuda College; and maintenance work at Lorraine Rest Home.
"Here at the Opportunity Workshop, a crew of inmates from the Farm Facility provided assistance with landscaping, clean-up and general maintenance.
"A letter of thanks from Ms. Belboda speaks to the merits of this programme. Ms. Belboda writes that while the men were onsite to complete a variety of landscaping and maintenance tasks she never heard them grumble or complain.
"The men had great attitudes and graciously did what was asked of them. When the staff of Opportunity Workshop had a clean-up day, the crew went above and beyond in assisting staff and clients by just pitching in without being asked.
"Truly, many hands make light work as the clean-up project, which was supposed to take all morning, was completed in just a few short hours. These projects help our community organisations redistribute funds allocated for maintenance to other important initiatives. In addition, this work allows the men who participate an opportunity to develop skills that will aid them on their reintegration into the community and the work force.
Minister Dunkley continued, "In observing some of the work completed here and at other locations, I saw results that demonstrated good skills in landscaping, painting and maintenance, I also noted a general good work ethic.
"Statistics show that persons released from prison who have skills that make them employable and able to maintain employment are less likely to reoffend.
"Ladies and gentlemen, the Bermuda Department of Corrections is to be congratulated in developing the 'Farm Facility Giving Back to the Community Program' and keeping to their mission "To Empower inmates to be Responsible and Productive Citizens."
"This program shows one way that our Corrections Officers are helping to return inmates to the community as upstanding citizens who understand the importance of an honest day's work for an honest day's pay.
"The commitment is to continue to build on the success of this program with greater participation and more community work," the Minister concluded.
Read More About