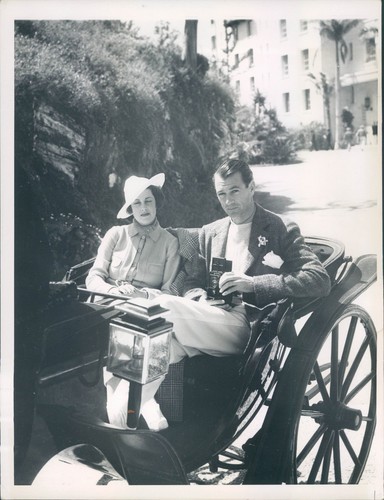 One of his most acclaimed roles was playing individualistic architect Howard Roark who refuses to compromise his modernist building designs in the 1949 film adaptation of Ayn Rand's novel "The Fountainhead."
But when actor Gary Cooper [1901-1961] built his dream house in real life he turned for inspiration to traditional Bermuda architecture rather than the Bauhaus style championed by that character.
After spending an extended vacation in Bermuda, movie star Gary Cooper and wife Veronica [Rocky] Cooper decided the island was something of a home away from home — so they modelled their new house in the tony Brentwood district of Los Angeles on a classic Bermuda design.
Mr. Cooper, a stoic and soft-spoken Montanan, was one of Golden Age Hollywood's most enduring stars; he won the Academy Award for Best Actor twice — for his performance as a Quaker pacifist-turned-First World War hero in 1941′s "Sergeant York" and as a sheriff who is almost betrayed by the moral cowardice of the townspeople he is trying to defend in the classic 1952 Western "High Noon."
Hollywood royalty throughout the 1930s, '40s and '50s, the Coopers first visited Bermuda shortly after their 1933 wedding precisely to escape the attention of overly zealous fans and the press.
While that initial visit to the island made international headlines — even the staid "New York Times" reported "Gary Coopers Arrive In Bermuda" – the vacationing couple [seen in a horse-drawn carriage in front of the old Castle Harbour hotel above] scarcely drew so much as a second glance from nonchalant Bermudians.
A famously reserved and retiring man in an industry built around hoopla and hype, Mr. Cooper told a 1936 interviewer Bermuda had quickly established itself as one of his favourite vacation spots precisely because of the island's hands-off approach when it came to vacationing celebrities.
"Prominent visitors are guaranteed they will not be molested by autograph seekers, interviewers and photographers, so they come to bask in the sun and get a whiff of freedom," said the 1936 newspaper report. "Gary Cooper. screen idol, is due here again. When he was here last year he specifically requested that reporters and cameramen stay at a safe distance. His wishes were respected …"
The same year Mr. Cooper told a newspaper columnist: "My life is a quiet one and I'm happier in it than I've ever been before. We seldom go to parties. A couple of times a year we take a vacation in New York or Bermuda, where we stole the idea for our house in Brentwood."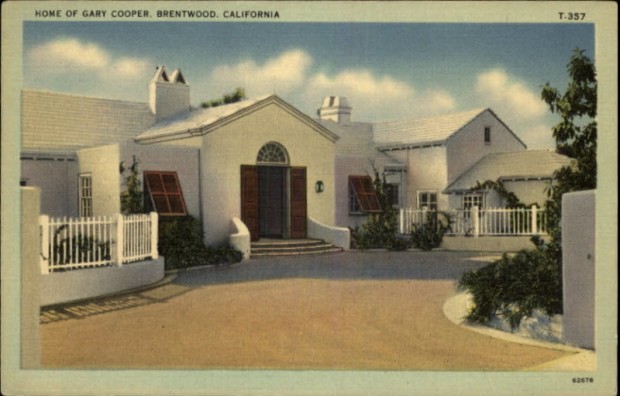 Built in 1936 on a hillside overlooking Sunset Boulevard, the Bermuda-style home — with its traditional white-washed roof and white stucco walls — became something of a landmark in Brentwood which was then dominated by Western- and Mexican-inspired ranch houses.
The three-and-a-half acre estate included a tennis court, swimming pool, ducks, chickens, dogs and lush landscaping; there was also a vegetable garden, citrus grove and an avocado orchard on the property.
When the couple separated in May, 1951 Mrs. Cooper remained there and he moved out. After reconciling, they sold the house in 1953 to a neighbouring Catholic Church.
The couple continued to visit Bermuda until shortly before Mr. Cooper's death.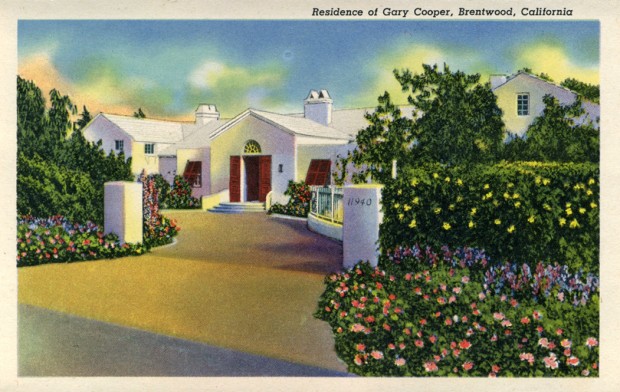 Read More About
Category: All, Entertainment, Films/Movies, History