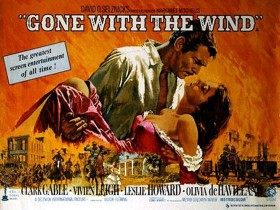 When Hollywood producer David O. Selznick flew to Bermuda for a two-month working holiday in the fall of 1938, his luggage reportedly consisted of four suitcases full of draft scripts of "Gone With The Wind".
Seen below at the Darrell's Island flying boat station with wife Irene Mayer Selznick as they disembarked from one of the Bermuda Clippers, while on the island Mr. Selznick [1902-1965] and screenwriter Jo Swerling laboured over drafts by as many as a 15 different writers to finalise a shooting script for the epic film which went before the cameras the following year.
Among the most revered — and reviled — films made during Hollywood's Golden Age, the Civil War-era historical romance was based on a runaway bestseller by Atlanta journalist Margaret Mitchell.
Mr. Selznick — an independent filmmaker in an industry then dominated by the studio system — acquired the rights to the book when it was published in 1936 and spent the next two years putting together a production team to bring the Pulitzer Prize-winning novel to the screen.
A legendary perfectionist, the Columbia University graduate had worked at Metro-Goldwyn-Mayer, Paramount and RKO Studios before launching his own independent Selznick International Pictures in 1935, distributing his films — including the first version of "A Star Is Born [1937] — through United Artists.
The book "Gone With the Wind" became an instant cultural phenomenon upon publication; the story of its star-crossed lovers — headstrong Southern belle Scarlett O'Hara and dashing Charleston blockade runner Rhett Butler — fired the imaginations of millions of readers and the casting of Mr. Selznick's pending film adaptation became a national guessing game in the United States.
But Mr. Selznick refused to rush the film into production until he was satisfied that the screenplay caught the sweep, romanticism and grandeur of the novel. He finally retreated to Bermuda to work on a final shooting script because there would be no "distractions" on the island and originally hoped to bring Miss Mitchell with him so they could work on the screenplay together.
"We must not lose sight of the fact that I am going away for two purposes and two purposes only, the principal one of which is to concentrate on finishing the script of 'GWTW', and the second and incidental reason [which] is, hopefully, to get a little rest," said Mr. Selznick in a telegram to a colleague shortly before leaving for the island. "It would probably be difficult or impossible to accomplish these objectives on a European trip with all its distractions and it therefore seems that the smartest thing to do would be to hold to our original selection of Bermuda …

David O. Selznick And Wife Irene Mayer Selznick Arrive In Bermuda In 1938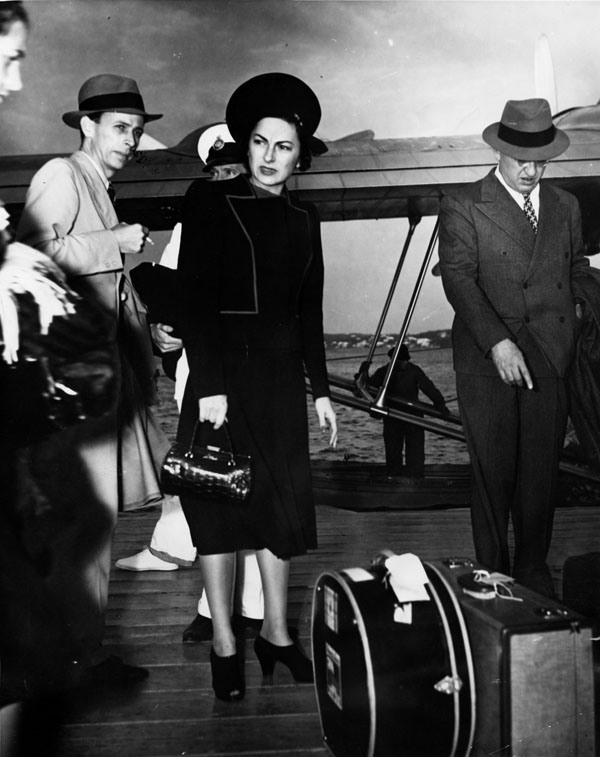 "Concerning the writer, it would of course be simply wonderful if we could talk Margaret Mitchell into a brief Bermuda jaunt at our expense. Perhaps if her husband could get a week or two off and could go along it would be helpful. If I could have Mitchell for so much as even a week toward latter part of my trip I feel confident I could do what remains to be done on the script by myself …and I think the most wonderful thing we could accomplish for 'GWTW'would be an announcement that there will not be a single original word in the script that is not written by Margaret Mitchell."
Miss Mitchell, who had become increasingly reclusive after the unprecedented success of her only book, declined to join Mr. Selznick in Bermuda so he turned to veteran Hollywood screenwriter Mr. Swerling for assistance in crafting the final shooting script.
After two months of work on the island, Mr. Selznick returned to Hollywood satisfied that he had finally resolved all of the problems plaguing the screenplay's structure in previous drafts. The film went into production in January, 1939 with Clark Gable cast in the role of Rhett Butler [frequent Bermuda visitor Gary Cooper had been considered for the part] and Vivien Leigh — a star in Britain but a virtual unknown in North America — playing Scarlett, perhaps the most sought-after part in Hollywood history.
Released in November, 1939, the film received ten Academy Awards — eight competitive, two honorary — a record that stood for 20 years until "Ben-Hur" surpassed it in 1960. In the American Film Institute's inaugural Top 100 Best American Films of All Time list of 1998, it was ranked fourth, and in 1989 was selected to be preserved by the US National Film Registry.
Trailer for "Gone With The Wind"
The enduringly popular film was the longest American sound movie made up to that time—three hours 44 minutes, plus a 15-minute intermission. It was also among the first major Hollywood productions shot in colour, winning the first Academy Award for Best Cinematography in the category for colour films. It became the highest-grossing film of all-time shortly after its release, holding the position until 1966. On an inflation adjusted basis, it has still earned more than any other film in box office history.
Both the book and movie of "Gone With The Wind" have been criticised in recent decades for perpetuating stereotyped images of African Americans, downplaying the violent role played by the Ku Klux Klan [bestselling author Pat Conroy, in his preface to a reprint of the novel, describes Miss Mitchell's depiction of the Klan as being "a benign combination of the Elks Club and a men's equestrian society"] and turning a blind eye to the severe gender inequality faced by women in both the antebellum and post-Civil War South.
Read More About
Category: All, Entertainment, Films/Movies, History