If you were one of the many millions of Apple iPhone and iPad users that had been waiting impatiently for an upgrade to iOS 7, then you found yourself in luck earlier this week when your devices notified you that the update was finally available. Now, 48 hours and many clogged internet connections later, many Bermudians have joined their fellow Apple fans around the world in taking advantage of what this latest mobile operating system has to offer.
Available now to users of the iPhone 4, iPhone 4S, iPhone 5, the iPad 2, iPad third and fourth generation models, the iPad mini, and the iPod touch fifth generation, iOS 7 will also ship pre-installed on the new iPhone 5C and iPhone 5S.
So – was it worth the wait? Let's have a look at some of the latest and greatest features that iOS 7 has to offer and you can decide for yourself. First, an official introduction to the new software from Apple:
Perhaps most notable in the new upgrade is the new and improved spotlight, search and notification centre features, that area that Apple users find themselves in when looking for notifications and the ability to search for information on their device. By swiping down from the top of the screen, users of iOS 7 will get instant access to all notifications, including emails, iMessages, phone activity, and which of your friends is looking to collaborate on social games like Candy Crush.
Instead of the traditional "swipe left from home screen" gesture that was required to perform a search before, users will now be able to access the search bar by pulling the home screen itself down, whether the notification centre is active or not. Besides offering a more intuitive way to access your device's search functionality, you'll also find that searching itself is improved with snappier results as your iPhone or iPad looks for your term through all information on the device itself; unfortunately, integrated web searching is still unavailable.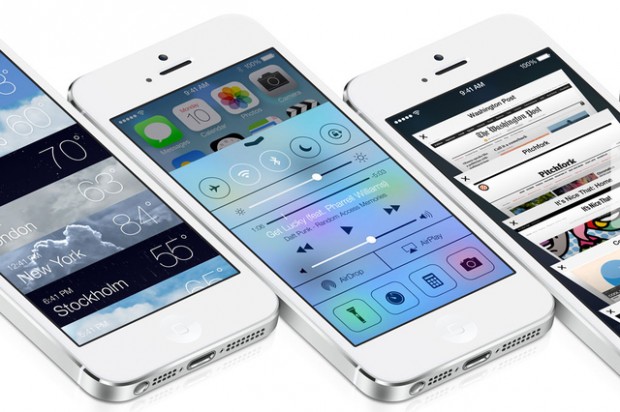 A feature that Android users will be very familiar with is the new control centre, an area that will allow you to access the many primary settings and functionality that you need to control your device. Simply swipe upwards from the bottom of any screen to reveal it, and you'll have access to things such as wireless settings, airplane mode, rotation/orientation lock, screen brightness, music controls, and the Do Not Disturb feature. There are also four basic and oft-used apps that can be accessed with a single touch from the control centre: Flashlight, Clock, Camera, and Calculator.
Perhaps less exciting, but no less useful, is the new method by which iOS 7 updates apps. Instead of prompting you with a numbered badge to access iTunes and manually update your apps, you can now set your device to update everything automatically, saving you precious time and putting the very idea of individual app updates out of sight and out of mind.
In what is likely the most wanted feature of an Apple mobile operating system, all devices running iOS 7 are not able to truly multitask in the vein of BlackBerry 10 and webOS. Every time an app is opened in iOS 7, an associated app card can be found on the main screen, allowing you to quickly and easily switch between or close apps without the need to open them in full-screen mode.
With Apple's data sheet promising more than 200 individual updates in iOS 7, there is obviously lots more for each user to find and utilize on their own.
Read More About
Category: All, technology