A 76-year-old New Zealand native is planning an extraordinary trip that will see him pay a visit to Bermuda as he circles the Earth in a custom designed yacht that will function entirely via green power sources.
Stanley Paris, an experienced sailor with a handful of records already under his belt, hopes to make the trip in only 120 days in Kiwi Spirit, a boat that runs entirely via power generated by solar panels, wind generators, and hydrogenerators; completing the trip successfully would make him the oldest sailor to circumnavigate the globe, as well as the first to do it without using traditional fuel.
A standard engine and fuel will be on-board just in case.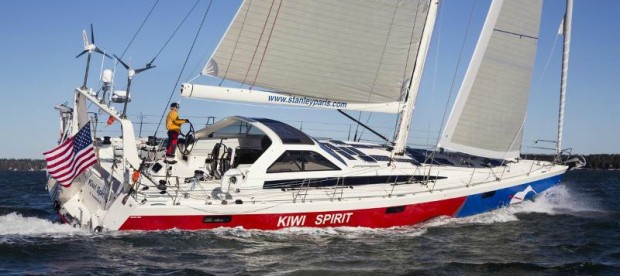 The trip began yesterday [Sept 30] as the brave navigator sailed out into the Atlantic Ocean via Maine's St. George River, heading first to Florida before making a pit stop in Bermuda. Besides traditional gear and 150 days worth of dehydrated food, the most important supply that Mr. Paris brought along, according to an interview that he gave before setting off, was 120 days worth of single-malt rum.
With years of sailing experience behind him, Mr. Paris said that he wasn't concerned about the long months of solitude and countless risks that faced him on the trip. Still, in order to protect him in the event of a disaster, he'll employ the services of two important devices; a transmitter that will constantly relay his position to a satellite, allowing friends and family to keep an eye on his status, as well as a unique device, worn around the neck, that will guide the boat back to him should he fall off.
Mr. Paris' sailing experience includes a race from Maine to Bermuda completed in the same boat.
Read More About