October is Domestic Violence Awareness Month and the Centre Against Abuse [CAA] is running a campaign entitled 'What Is Love?'.
The CAA manages Bermuda's only domestic abuse shelter for women and their children, while also offering programs for abusers, victims, and witnesses. This latest CAA campaign aims to educate the island's women on what a loving relationship looks and feels like, helping them to avoid abuse that sometimes masks itself as love or caring.
Ms. Laurie Shiell, the Executive Director of the CAA said, "It has been a tremendous success. One of our main goals was to have people think about love, romantic or platonic, and determine if they can describe their relationship as a 'loving' one. We want our young girls to keep their standards high and learn to love themselves first, so that they do not need to seek it from others. This campaign is the first step to starting open and honest discussions."
Left to Right: GM of Washington Mall Paul Slaughter, Executive Director of the Centre Against Abuse Ms. Laurie Shiell, Creative Director of campaign Hafid James and one of the sponsors Mr. Dion Smith of Smith's Technologies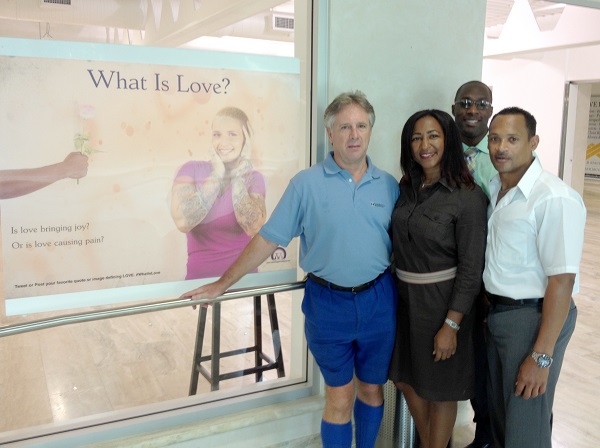 The campaign has involved: social media, asking the public to post or tweet their definition of love via quote or image #WhatIsLove; posters asking the question what is love with positive and negative examples; and discussion on the radio and in schools about abuse, love and chivalry. The Executive Director of CAA along with Rev. Maria Seaman, lifestyle coach Mr. Preston James, and the Creative Director of the campaign, Hafid James, have already had the opportunity to discuss 'What is Love' on the Sherrie Simmons radio show.
Ms. Shiell noted that, "The discussion was extremely lively, and the team enjoyed having people call in so we could explain, and when needed correct perceptions on love and abuse. The What Is Love team has also had a few schools request us to speak to their students. We encourage any school or youth organization, if this campaign sounds like something that would be helpful to your students, please feel free to give us a call on 292-4366 and we can schedule something."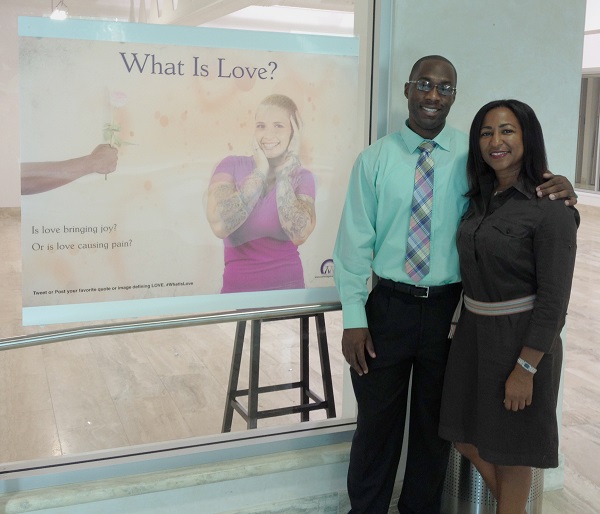 CAA has started the next phase in the campaign, installing specially printed posters around the City of Hamilton.
Ms. Shiell stated, "We are so excited about the design of these posters. The image changes based on the angle of the viewer, so two people can look at the same poster but see two different images. These posters once again ask the question 'What Is Love?', but with an eye catching effect.
"On one of our posters you can see a girl blushing or a girl with injuries, and on the other side a hand offering a flower or holding a knife. These images will change and it is up to you to match it to which you think best describes love. These posters are not trying to tell you what love is, we want you to consider this question, answer it for yourself, and see if it fits your relationships."
A spokesperson said, "Once again we would like to thank our sponsors for this campaign Dion Smith of Smith Technologies and Rev. Clarke Minors or Miracle Temple, New Testament First Church of God. CAA would also like to thank Hafid James, the Creative Director of this campaign, who provided the concept for 'What Is Love' from the inception to completion."
To learn more, or obtain help, or to give donations to Centre Against Abuse, visit their website, or call theit officeat  292-4366. Also follow them on Twitter @CAA_bermuda and like them on Facebook.
Read More About