As has been the tradition for many years, the Gombeys are out making their rounds on Boxing Day, helping the island celebrate the holiday season.
The island's preeminent folk art, Gombeys traditionally span the island on Boxing Day and other holidays with the groups growing larger through the day as Bermudians start following along and dancing to the rhythmic beat of the drums.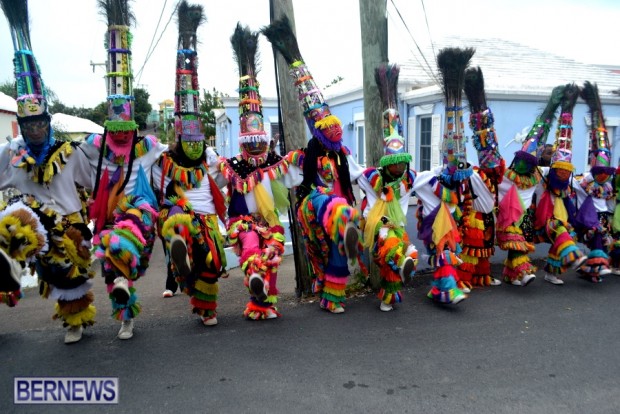 The Gombeys are thought to have been principally derived from an African custom, with aspects such as their hatchets and bows and arrows owing their influence to Native American slaves sold in Bermuda centuries ago.
Written records of their appearances in Bermuda dating back to the early 1800s show they were once referred to as "the Gumba".
A brochure from the ADHT describe the Gombeys by saying, "These masked dancers [the masks may well have been used to conceal the identities of the dancers from slave owners] zestfully portray biblical and other stories as they make their way through the streets.
Video showing the Gombeys in the Border Lane/Glebe Road area late this morning:
"The dancers are followed by a band of drummers. Deep-throated kettledrums set the time, while snare drummers weave a complicated rhythm for the dancers to follow.
"Bringing up the rear of the Gombey crowd are men, women and children captivated by the distinctive rhythms as they dance to the language of the drum.
"The Gombeys are a vivid cultural symbol, the artistry of their dance brought on slave ships from native soil, kept alive during slavery and now blossoming in freedom."
Read More About