In collaboration with The Chewstick Foundation's Community Art Program and CellOne, Bermemes will be painting a Bermudian Gombey-inspired mural on Saturday, July 12 outside of the former Canadian Hotel on Reid Street.
The concept was created and illustrated by artist Dejon Simons and will feature the faces of Gombeys with unique Bermudian phrases that were submitted by followers of Bermuda Memes' social media pages.
When asked about the inspiration behind the chosen concept, Mr. Simons said, "The concept itself is one way that I believe makes us truly different in the world. There are so many social issues in Bermuda from the top to bottom and often I find that sometimes we take more pride in others and their accomplishments than the goodness and every day heroes we have at home."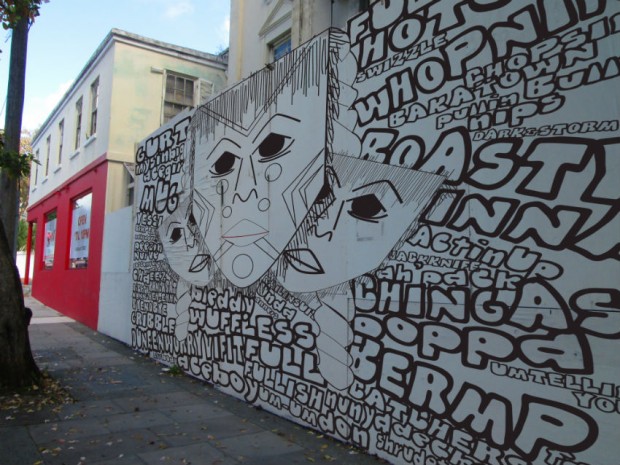 "The mural may just look like a Gombey and some words but it's more than that. When you live on an island where you have young people that have never set foot in certain places, speaking a dialect they don't relate to or understand, we have a problem. When we have a school system that teaches the importance of other cultures' histories in order to pass exams over our own, we begin to have the rare or non-existent identity of ourselves that we have today.
"I'm not saying that it is not a good thing to diversify yourself and become inspired by others, but when people start to completely erase or repress who they are to imitate others in order to feel accepted, we end up having the problems we have today. We can't exhort national pride outward if we ourselves are not proud of who we are at home and this mural is a way for everyone to be able to create an object that is genuinely ours and build a genuine Bermudian legacy that is somewhere we can all smile at every day."
Bermemes is inviting the community to get further involved and to help give colour to the mural. Paint and brushes will be provided, and there will be goodies given throughout the day from CellOne and Sweet Saak Bakery.
Find out more about the community event, email info@bermemes.com.
Read More About
Category: All