Convicted killer Antonio Myers was originally sentenced to a minimum of 38 years behind bars before being eligible for parole, however today [Jan 16] that was slashed down to 15 years.
Myers was arrested in 2010 in connection with the murder of Kumi Harford, who was killed in December 2009 when a hail of bullets struck his car as he was driving home on St. Monica's Road.
Myers was convicted in March 2011, with the Judge originally directing he must serve minimum of 38 years before he can be considered for parole.
Myers leaving Court today: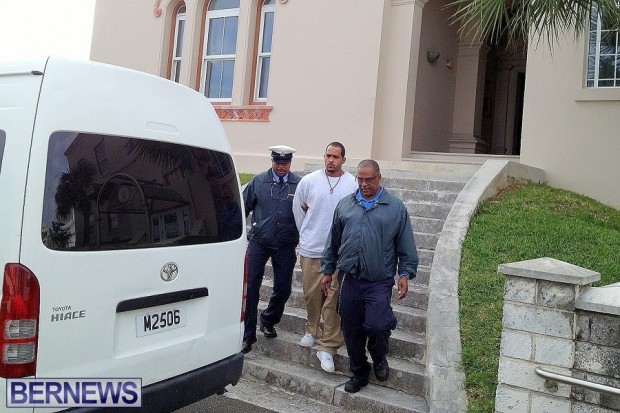 Myers has been the only person convicted of Mr Harford's murder, however during the trial, an expert testified that evidence determined that two shooters were involved and that two guns were involved; one a 9mm pistol and the other was a 40 calibre weapon.
Following Myers conviction, the Police said the case remains open as detectives continue to look for other offenders in the case.
Myers is the latest murderer to have his sentence reduced following an appeal, following after David Cox, Ze Selassie and Jermaine Pearman.
The sentence reductions follows after a ruling by the Privy Council in London, which stated that the laws in Bermuda do not allow a minimum sentence over 25 years for premeditated murder and 15 years for  murder.
Read More About
Category: All, Court Reports, Crime, News