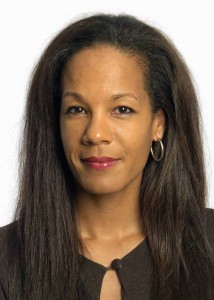 "I'm a mixed-race Bermudian. Sometimes that gives me insight into the racial situation in Bermuda that others might not have," said former OBA Senator Toni Daniels [pictured] in a recent opinion column.
"Here's one of those insights for you: There are blacks and there are whites, sure, but the real struggle is between what people see as real Bermudians and pretend Bermudians.
"Real Bermudians are black. They live in black neighbourhoods, their children go to public school, their partners are other real Bermudians, they don't go away to school or university, they belong to the union, and they support the Progressive Labour Party.
"You can still be a real Bermudian if you don't make the grade in one or two of those categories, but the more you stray from the criteria, the harder it is. Only real Bermudians can be the judges of who is and who is not a real Bermudian.
"If you fail to meet the criteria and you don't get special exemption, you're a surrogate, you're a puppet, you're a suspect or a fake. You don't have the right to judge what's good for Bermuda and real Bermudians.
"Pretend Bermudians can apply for special exemption, but are only considered if they denounce whatever doubtful group with which they were once aligned. All those whites and others of whatever colour who join the PLP are probationary real Bermudians, but could be demoted back to pretend Bermudian rank if they fail in any way to demonstrate their Bermudian-ness regularly.
"White Bermudians? That's a contradiction in terms.
"I know all this real Bermudian/pretend Bermudian stuff is a little like mist. It disappears when you try to touch it. But I think most people know what I'm talking about. I think people know that in politics –especially at election time – it comes out from wherever it hides, and it can make a difference.
"Is it legitimate? Is there really a difference between real Bermudians and pretend Bermudians?
"Of course not. It's a notion that fails on every front – historically, legally, ethically, and in any other way you care to look at it. But it exists.
"I'm a One Bermuda Alliance supporter, and it comes at us all the time. The Opposition PLP craft their objections to what we are doing on the basis that we are a pretend Bermudian party and they are a real Bermudian party.
"If you read the articles written by PLP writers, you will see that many of their arguments are based on the fiction that the OBA doesn't care about real Bermudians. The OBA's work is in aid of benefitting people other than real Bermudians, they say.
"If you listen to the talk shows, you will hear from some people who quite obviously buy into that line. They don't care how much work the OBA does, they don't care how much our work helps Bermuda, they don't care how much success we have in rebuilding the country… really, they don't care to be bothered with the facts at all.
"To the extent that they recognize the economy was driven to the brink of failure by the PLP, they overlook or excuse the failure because it happened in the effort to help real Bermudians.
"This is a tragedy.
"It means there is a group of people in Bermuda ready to believe anything or look passed anything as long as it comes from "the right people".
"Sometimes it seems to me that Bermuda is like a wounded bird…hopping slowly forwards, but all the time having to drag a broken wing behind it. Will we ever be able to move forward together?
In response a PLP spokesperson said, "The OBA have developed a very disturbing pattern of behavior. Whenever one of their promises are broken, or whenever they are caught taking care of their friends, family, the elite and privileged, they do one of three things.
"They either find some way to blame it on the PLP, start a rousing chorus of kumbaya [which to the OBA means fulfilling the dream of a Bermuda where everyone goes along with whatever foolishness they propose] or attempt to use race as a distraction.
"In the midst of serious allegations surrounding cronyism, back room deals and Jetgate, no one should be surprised that the OBA is once again trying to distract from the real issues facing Bermudians. The PLP however will not be distracted or deterred from speaking out for Bermudians. All Bermudians.
"Bermudians of all races are hurt by the OBA's failure to produce a jobs plan that benefits Bermudians first
"Bermudians of all races are hurt by the skyrocketing increases in jobs losses under the OBA
"Bermudians of all races would have been hurt if the OBA scheme to give the right to work to expat children had not been defeated
"Bermudians of all races are hurt when the OBA breaks promises and deceives the people of Bermuda
"The OBA benefits from maintaining a racial divide that sees them receive near unanimous support from the white community. They benefit when they make Bermudians believe that their fellow countrymen are somehow less reasoning, less rational and less human than their fellow Bermudians. The divide is one that they benefit from and as we have seen over the years, will exploit to keep themselves in power.
"The OBA is out of touch, out of ideas and Bermudians can no longer wait for them to get their act together. Too much is at stake. The PLP have offered new ideas and real solutions top get Bermudians back to work, expand opportunity and build a fairer, more equitable Bermuda that puts Bermudians first. The OBA opposes that and Bermudians deserve better."
Read More About