Following questions from Independent MP Terry Lister, Education Minister Dr. Grant Gibbons said that the Ministry has "no knowledge of the survey" to which former Education Commissioner Dr Edmond Heatley referred to when he said he had raised approval rates some 70% in six months.
Mr. Lister's question — which caused snickers among MPs last night [May 9] in the House of Assembly — was  followed with another: "Given that Dr. Heatley included this false information on his job application, what impact did this have in assessing his ongoing credibility as an educational leader in Bermuda?"
Audio of the exchange last night in the House of Assembly:
Noting that staffing isn't the purview of the Ministry per se, Dr. Gibbons replied: "Obviously Dr Heatley is no longer with the Ministry."
In addition, Dr. Gibbons confirmed that Dr Heatley had been on a salary of $171,893 per year — not the $190,000 he claimed on his application — and also added that he was not given a severance package.
Dr. Heatley, an American, took up the post in Bermuda in September 2013 and in March 2014 it was revealed that he applied for a job in the United States.
Further controversy arose when it appeared that on his application for the job he claimed to have "increased public education approval rates from 23% to 93%" while employed in Bermuda.
Screenshot from the job application that was released, click to enlarge: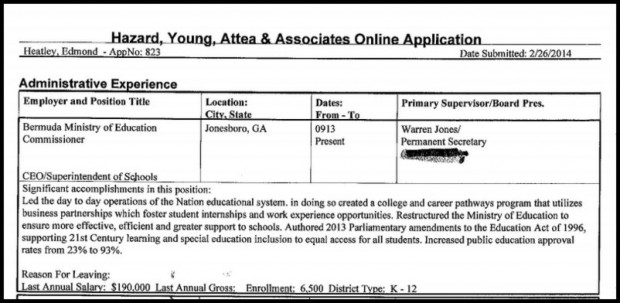 Following the controversy, Dr. Heatley resigned as the Commissioner of Education, and Bermudian Dr Lou Matthews assumed the role of Acting Commissioner upon Dr. Heatley's departure on April 30th.
Read More About